Is Shakira Too Sexy for Her Native Colombia?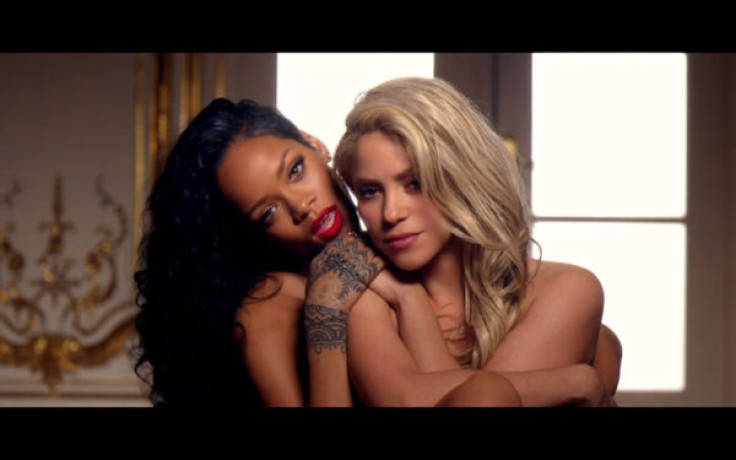 It has clocked up over 100 million views on YouTube and received rave reviews from fans but it seems that Shakira's raunchy collaboration with Rihanna has been given the cold shoulder on her home soil.
Marco Fidel Ramirez, a Colombian politician, slammed the video of Can't Remember to Forget You as "immoral and vulgar" and called for it to be banned from the South American nations' airwaves.
The Bogota city councilman claimed that the promo, which shows the Colombian star and RiRi smoking, twerking in skimpy outfits and cradling each other naked, could potentially corrupt children.
"I found a video that evidently contains images that in my opinion are not useful for the emotional growth and development of youths," Ramirez told CNN en Español.
"I feel it promotes immorality."
Ramirez reportedly wrote to the 36-year-old star asking her to remove the video from the internet. He insisted that the Hips Don't Lie hitmaker was talented enough not to need sex and provocative tactics to sell her music.
"I think the message that Shakira is sending to youth and children around the world is a message that sells a lifestyle and promotes a particular orientation, that in my opinion, does not reflect the views of most Colombians," he said.
He later took his campaign to social media by tweeting: "OUR @ shakira promo video with her ​​erotic smoking has become the worst example for our youth. BATTERIES parents!"
Lines in the song include: "I've never met someone so different/ You're part of me now, so where he goes I follow" and: "When you look at me, the only memory/ is us kissing in the moonlight."
Shakira, who has a child with football ace Gerard Pique, has not responded to the criticism.
© Copyright IBTimes 2023. All rights reserved.