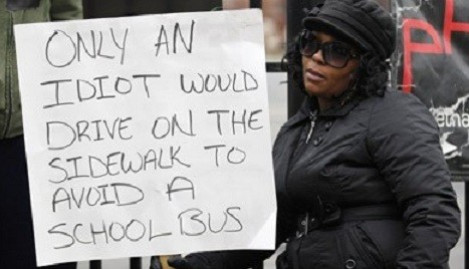 A judge in the US state of Ohio has forced a woman found guilty of reckless driving to stand on a busy street corner holding a sign declaring she is an idiot.
Shena Hardin, 32, repeatedly drove her car on the pavement to go round school buses during morning rush hour in the city of Cleveland.
When Hardin was caught on CCTV driving round the bus while children were disembarking from it, she was arrested and charged with reckless operation, and not stopping for a schoolbus.
After being found guilty, Hardin was ordered to stand at a cross-junction with a placard reading: "Only an idiot would drive on the sidewalk to avoid a school bus."
According to local media, Hardin received plenty of abuse from passers-by.
Lisa Kelley, whose nine-year-old daughter was on the bus, approved of Hardin's humiliation. She said:
"She's an idiot, just like her sign says. She did this almost every day last year. She won't stop laughing.
"She's not remorseful, she laughed at every court appearance. She's still laughing, so she needs to be humiliated like this."