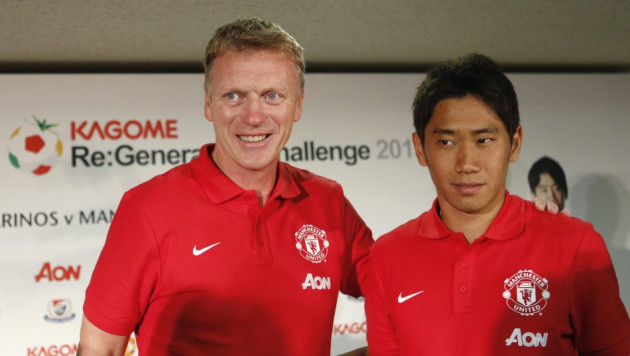 Manchester United manager David Moyes has revealed his excitement over the prospect of working with Shinji Kagawa next season.
The Premier League champions arrived in Japan for the third leg of their tour of the Far East and Australia where they were joined by the former Borussia Dortmund playmaker, along with Chris Smalling and Ashley Young who have all recovered from injury to commence with their pre-season campaigns.
The Japanese international is not expected to feature against Yokohama F Marinos on Tuesday evening, but Moyes could not hide his excitement over Kagawa's role in his side ahead of the new season, having been told of what to expect by his predecessor Sir Alex Ferguson.
"Sir Alex spoke in glowing terms about Shinji and how good a player he is," Moyes told a press conference, Sky Sports report.
"I've just met him today, so we're getting to know each other. I'm trying to learn Japanese and he's trying to understand my Scottish.
"It was his first season in the Premier League last year. He's a young player so we hope his development continues. I look forward to working with him and hopefully he has a really good season coming up.
Kagawa has been questioned on his first season in the Premier League on a number of occasions, situations where the influential midfielder has consistently played the role of his biggest critic, unsatisfied with his first forays into Premier League life.
With Wayne Rooney's future still in doubt, Kagawa's role in the United XI could grow exponentially next season in his favoured role behind a forward, and he is eager to swiftly impress his new boss.
"We still need more time to get to know each other, but I am looking forward to building up our relations," the Japan international said.
"As a player, I feel every game is important and I want to give my very best and to give a good impression to the coach."