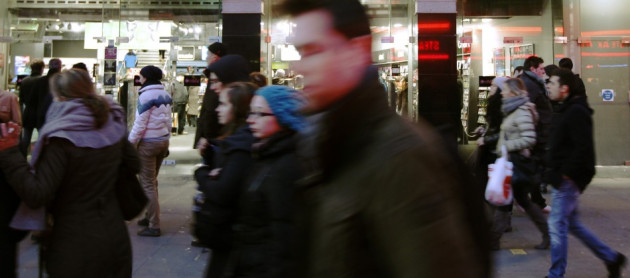 Incidents of violence against shop staff rose by a staggering 83 percent in 2011.
About 35,300 retail staff suffered from threats and verbal or physical abuse in the last year.
The British Retail Consortium (BRC)'s Retail Crime Survey 2011 surveyed 52 of the UK's biggest retailers, who make up 53 percent of the country's total retail turnover.
BRC's report puts the sharp increase down to "retailers' greater focus on encouraging the reporting of offences".
"A worrying trend this year is the increase in threats and verbal abuse to retail staff," said Stephen Robertson, BRC's director general.
"The BRC's Tackling Violence Working Group set up last year has made significant progress in tackling the under-reporting of these incidents and in challenging the perception that this abuse is 'part of the job'.
"There is still, however, more to be done."
Footage emerged in November of a brave shopkeeper in a Dagenham jewellers fighting back against a knife-wielding robber who held the blade to a shop assistant's throat.
He used a broom to fight off the thief and chase him out of the shop despite being lunged at with the knife. Police are still trying to track the assailant.
Significant Cost to Retailers
Retail crime cost UK retailers £1.4bn in 2011 - a 31 percent increase in just one year.
Sharp increases in customer theft and fraud accounts for almost all of the losses although the number of overall thefts and burglaries (committed by customers and staff) decreased from 2010 by 19 percent.
"Despite a reduction in theft and burglaries reported in this year's survey the value of these offences has increased significantly," said Roberts.
"This is likely to reflect an increase in more serious and organised offending."
He added that the BRC was concerned about "the absence of consistent collaboration on cross-border criminal activity".
August Riots Affected 20,000 Retail Staff
BRC's survey also reveals that the August riots across England cost retailers £18.3m and affected 20,000 retail staff.
"Offences included theft, arson, robbery, burglary and criminal damage, with the highest concentration of offences in burglary and criminal damage," said the report.
The average cost per incident to retailers was £8,157.
"Rioting and disorder in August last year thrust retail crime into the public eye and highlighted the importance of tackling retail crime at an early stage," said Roberts.
"This criminal behaviour had a significant impact on retail business but, most importantly, on retail staff and customers."