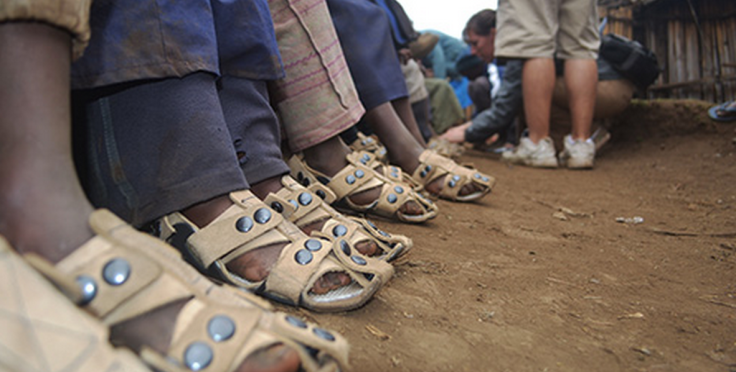 A man has invented shoes that grow so that people can use them for very long periods without having to live barefoot if they do not have money to buy new footwear.
Inventor Kenton Lee came up with the idea of shoes with adjustable size, according to feet's length and width. The footwear has five different sizes - from 5 to 12 - and lasts for at least five years.
According to Shoe that Grows, Lee figured out his invention in 2007, while he was in a church in Kenya where he saw a little girl wearing shoes too small for her feet.
Shoe that Grows is one of the first projects by Because International, a company that is committed to practical compassion. The shoes are distributed around the world with the help of partner organisations.
The company said: "There are kids without any shoes. A non-profit organisation or government organisation gives them a handout of a pair of shoes. But they are kids; their feet grow all the time. So about a year later, the shoes no longer fit the kids' feet. Now what does the child do?
"When kids do not have shoes or do not have shoes that fit, they are going to have problems. Their feet can be effected negatively if they are wearing shoes that do not fit. And if they do not have shoes, then their overall health can be negatively impacted. The Shoe That Grows takes away these problems. And it takes away the worries that kids have when they do not have shoes. In a busy, complicated, difficult life for many of these kids - The Shoe That Grows will allow them to cross at least one thing off of their list because they can always have a shoe that fits."
The NGO's website said that more than 2 million people in the world suffer from from soil-transmitted diseases and parasites and live in areas with inadequate sanitation. The company also estimated that some 300 million children do not have shoes.
A report by the World Health Organisation said that soil-transmitted diseases - caused by different species of parasitic worms - are among the most common infections worldwide and affect the poorest and most deprived communities. People are mainly infected by the roundworm, the whipworm, and the hookworm.