A major UK retailer has introduced breathalysers at some of its city centre branches in a bid to stamp out public drunkenness.
Staff at Spar shops in Cardiff have been trained to use handheld breathalysers so they can root out intoxicated customers and refuse to serve them more booze.
The initiative could a sign of things to come across the UK, as local councils and police forces struggle to cope with alcohol-related public disorder.
South Wales Police has thrown its weight behind the initiative. Chief Superintendent Belinda Davies said the number of tourists and locals registering complaints about chaotic drunks had increased in recent years.
"Such behaviour can prove intimidating, unpleasant and unwelcoming to those visiting or working in the area," she added.
One of the Spar shops taking part in the scheme is on Queen Street, in the shadows of Cardiff Castle, a popular tourist attraction in the city centre where many rough sleepers like to congregate.
The breathalysers carried by staff are similar to those used by police when they are testing drivers for the amount of alcohol in their bloodstream. It is not clear what the limit will be for members of the public wishing to buy drinks in the stores.
Cardiff is the largest city in Wales and very popular with both stag and hen dos. South Wales Police has begun confronting the growing problem of antisocial drinking with the launch of Operation Ash.
Last week they announced that, just 12 days into the operation, they had:
• Served more than 40 section 35 notices – which require the recipient to leave an areas for 24 hours.
• Confiscated more than 40 alcoholic drinks from street drinkers.
• Arrested 18 people for begging, being drunk and disorderly, failing to appear at court and breaching dispersal orders.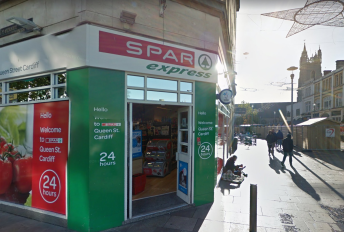 Davies said: "Our action is intended to deal with persistent beggars and street drinkers, but also giving us the opportunity to engage with some of the more vulnerable members of the community, working with our partners to signpost a variety of help and support services available to them."