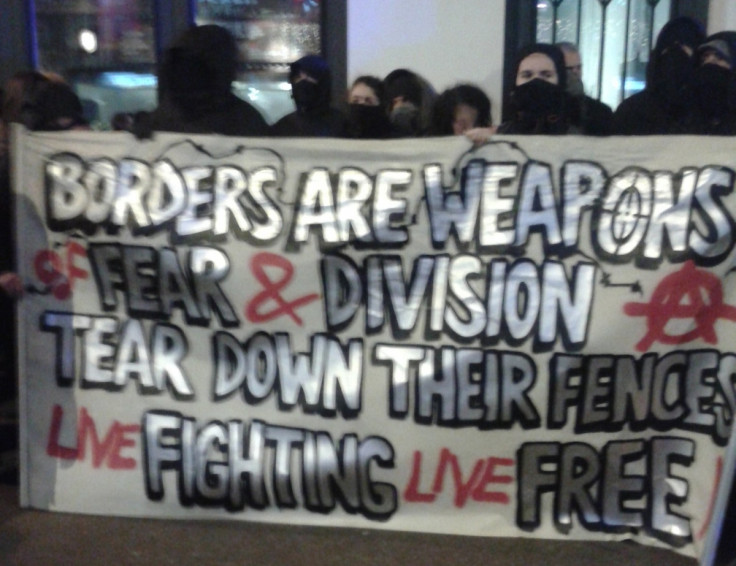 Masked protesters descended on private members' club Shoreditch House and let off smoke bombs in protest at the closure of the Calais "jungle" camp. About 30 demonstrators blocked the entrance to the exclusive hang-out in East London, where the French ambassador for international investment, Muriel Penicaud, was reportedly at an event.
A video of the protest, which took place on the evening of 23 February, showed activists behind a banner saying: "Borders are weapons of fear and division. Tear down their fences. Live fighting live free."
Edith Hancock wrote on Twitter: "Was blocked for 45 mins from attending event with French ambassador to UK Shoreditch House due to protesters supporting Calais migrants."
Daniel Giacopelli also tweeted: "Got smoked bombed out of Shoreditch House as balaclava'd protesters tried to get in. French ambassador was to speak." Earlier the French embassy had tweeted that Shoreditch House would see the launch of a Creative France event.
Leaflets handed out by the activists condemned a decision by the French government to clear the Calais 'jungle' camp. It warned the move would see the destruction of houses, schools, libraries and churches built by inhabitants, adding: "Across Europe the walls are going up again. Some of the technologies of control and surveillance are new, developed by the hi-tech 'creative industries' the French government is celebrating at tonight's event."
A Metropolitan Police spokesman said: "Police were called to Ebor Street to reports of a protest taking place at approximately 6.50pm on 23 February. Officers attended the scene. The protest has concluded."
The French embassy in a statement said: "Everyone agrees that life conditions in the 'jungle' are not ideal. The French authorities are deploying huge efforts to cater for the migrants. Our objective is that everyone should be housed in humane conditions."