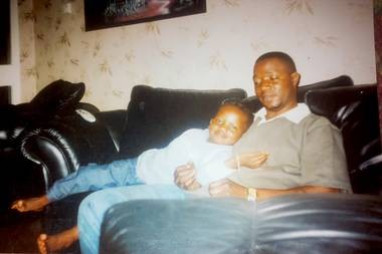 An 11-year-old boy who was found hanged in his London bedroom had been the victim of bullying at school, an inquest heard.
Sidney Boyimbo Nzamale was found in the bedroom of his Tottenham home in October 2011, North London Coroner's Court was told.
Sidney had been "slapped" by another pupil and on another occasion a boy had demanded money from him, the inquest heard.
Sidney's mother, Mpela Boyimbo Ona, wept as she told the inquest of the day he died, saying she had asked Stanley to get his PE kit and he had come back without it.
She said: "He was on a laptop downstairs when I asked him to go and get his PE top."
She said he came back down without it and was then told by his father to go back and find it.
According to Ona, "he said 'Sidney you can't just put play first, you must put school first'."
During her evidence, Ona collapsed as she described hearing her daughter scream from upstairs.
Sidney's sister had found him "kneeling as if praying", the court heard.
"She shook him and panicked and screamed", the court heard in evidence.
Sidney's father Alunga carried his body down from his room and onto the driveway outside the house, he told the court.
He also revealed that two friends of his son visited him after Sidney's death with a condolence card. They told him that Sidney had been bullied at the school, where he had only enrolled four months previously.
Sidney's father said his son had sometimes appeared "sad", and would often come home hungry, having not spent his lunch money.
The head of Stanley's north London school, which cannot be named for legal reasons, told the inquest of allegations that he had been "slapped" by another pupil and on another occasion money had been demanded from him. The claims had not been substantiated, he said.
Sidney's father, who is originally from Congo, told the court his son had been excited to be picked for the school football team. Sidney did not confide in him about the bullying as he might have removed him from the school.
He said of Sidney: "He was a caring boy. He was a great boy and he was my best friend, we did everything together."
Sidney's head of year at school said the 11-year-old had been considered the "joker in the pack", and was popular in class.
The post mortem showed Sidney died from a heart attack caused by a ligature to his neck. The inquest continues.