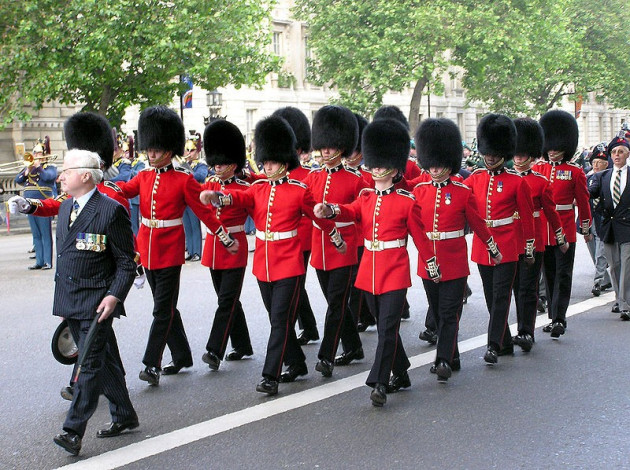 A Sikh solider has been granted permission to wear his turban while guarding Buckingham Palace instead of the traditional bearskin hat.
Jatinderpal Singh Bhullar, 25, said it was a great honour to be allowed to conduct public duties in his turban. His religion says he has to wear a turban at all times.
Sikhs have worn turbans in battles for centuries while fighting for the British Army, including Bhullar's grandfather.
However, some traditionalists at the Scots Guards say Bhullar should not be able to defy the 180-year tradition.
David Cuthill, chairman of the Dundee branch, told the Daily Mail the guardsmen will look "ridiculous" if Bhullar wears a turban instead of a bearskin.
"It should be regiment first and religion second. A guardsman is not a guardsman if he's not wearing his bearskin," he said.
"Hundreds of years of tradition should be protected. I appreciate his predicament, but if all the other guardsmen are in bearskins and he is in a turban, it is going to look ridiculous."
According to the newspaper, this sentiment was shared by a number of other serving non-commissioned officers based at the Wellington Barracks, where Bhullar is based.
However, a Ministry of Defence spokeswoman said: "The Army takes great pride in its diversity. Discussions are underway between this unit, the Sikh community and the MoD. The individual will have the full support of the Army and his colleagues."
"Proud of Mr Bhullar and British society"
Also welcoming the move was Mejindarpal Kaur, legal Director of UNITED SIKHS, a UN-affiliated international advocacy charity, who told IBTimes UK: "The multiculturalism in UK society is reflected in the turban that Mr Bhullar will be wearing instead of the bearskin when he becomes the first Sikh guard to wear a turban at Buckingham Palace.
"Those of his colleagues who taunt him are in the minority, which every society is bound to have. We understand the importance of the bearskin to traditionalists.
"But Mr Bhullar's turban represents a competing tradition and right which his forefathers upheld when they defended Europe in both World Wars, wearing their turbans instead of helmets.
"We are pleased that the Ministry of Defence is standing by Mr Bhullar. We are proud of both Mr Bhullar and British society."
Military sources told the Mail that Bhullar is expected to become the first guardsman to wear a turban instead of a bearskin next week.