Sing review: Matthew McConaughey-led jukebox animation might be formulaic but its definitely fun
Scarlett Johansson, Seth MacFarlane and Taron Egerton also star in the cutesy, animal-filled musical.
NOTE: This article is a contribution and do not necessarily represent the views of IBTimes.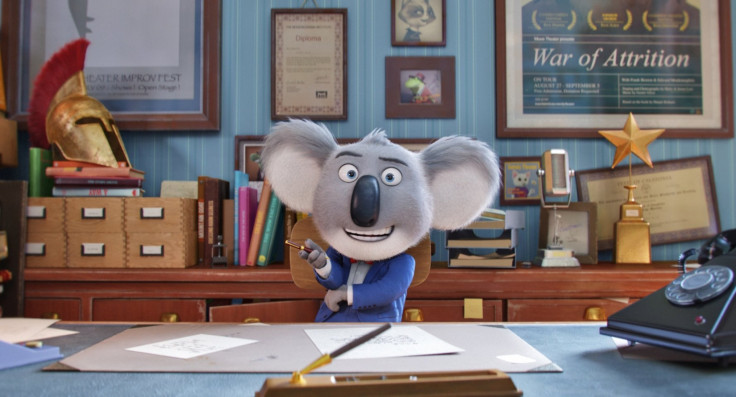 Buster Moon (Matthew McConaughey) is a dapper koala, who dreams of turning the establishment his father helped him buy into a successful theatre. But unfortunately, a run of unsuccessful stage productions – and a lifetime of bad luck – have exhausted his finances, meaning that he spends more time dodging visits from angry bank employees than making a name for himself.
Ever the optimist, he conjures up a plan that he's sure will turn his luck around; a singing competition where the contestants win a grand prize of $1,000. When hundreds of talented animals soon rock up to his theatre to audition, Buster convinces himself he's on the up. Little does he know that they're all there because of a certain printing mishap on the competition's flyers and – in true animation fun – family-friendly chaos ensues.
Upon reading its synopsis and seeing its primary-coloured posters dotted around, no one can be blamed for thinking that Sing is merely a by-the-books children's animation with a simple story and even simpler message. But the amount of genuinely well-managed subplots that writer-director Garth Jennings (Son Of Rambow) manages to weave in is commendable and gives it a far scope than the film's various promotional material suggests.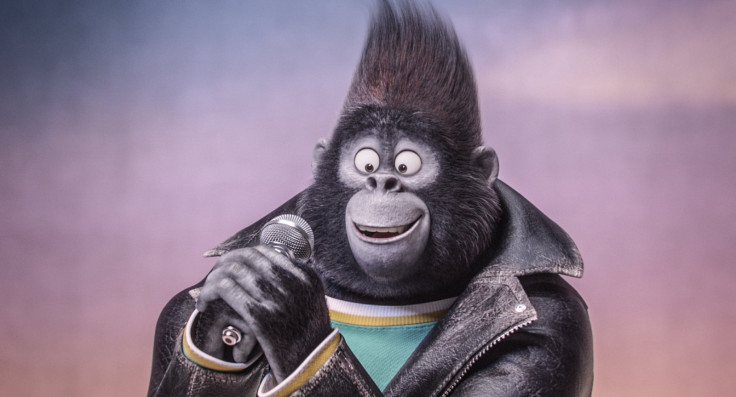 While McConaughey's smooth-talking scoundrel Buster seems to be the focus at first, he soon becomes the protagonist for the story, making way for plenty of other supporting characters – or animals – to have their own moments in the spotlight. It's a treat, for young viewers especially, who are bound to recognise parts of themselves in at least one of the animals' personalities and backstories explored in the movie. It's a bit of a bummer when all that good work comes to a screeching halt with a fart joke or an overly loud sequence featuring some super cute red pandas... but hey, sometimes children's movies just call for a wind gag, right?
Each character is not only written decently but brought to life well too. As with most animations, the film is only as good as its voice cast and fortunately, Sing is full to the brim with suitable talent. Seth MacFarlane brings his usual comedic sass to suited-and-booted mouse Mike while Tori Kelly offers up a sweet innocence (and one sensational set of pipes) to shy elephant Meena. Reese Witherspoon's southern twang gives instant warmth to endlessly-busy pig-turned-housewife Rosita and Taron Egerton brings effortless charm to soft-spoken gorilla Johnny, who wants nothing more than to abandon his family's crime-committing gang and make it as a performer.
Similarly, Scarlett Johansson's husky voice bring a sense of undeniable cool to punk-rock porcupine Ash. But the two standouts, however, have to be Jennifer Saunders and Jennings (himself, no less) – the former plays theatre legend Nana Noodleman; a prim-and-proper, hard-to-please sheep who previously performed at Buster's theatre and the koala's elderly assistant Miss Crawly respectively. The latter, or more specifically, her unreliable glass-eye, provides many of the film's laugh-out-loud moments.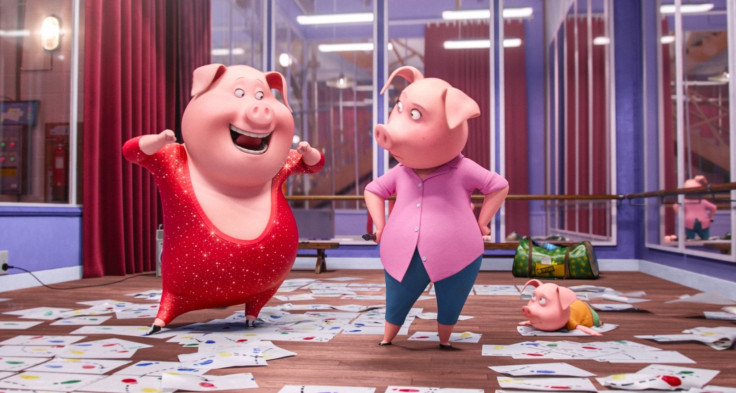 Sing's selection of music is pretty impressive too, making sure there's something there for both kids and the adults who are likely to take them to see this. For every nostalgic track such as Elton John's I'm Still Standing, Stevie Wonder's Don't You Worry 'bout A Thing and modern classics like Sam Smith's Stay With Me, there's an auto-tuned rendition of Call Me Maybe or even The Ketchup Song which reminds you who this film is really aiming for. It's understandable... not entirely forgivable, mind you... but understandable.
Hardly surprising given that it comes from the studio behind Despicable Me and those now-iconic Minions, Sing also looks great. The colours are vibrant and add significantly to the feel-good atmosphere that permeates the screen throughout. The creature design may be a little generic – there's no Gru-style creation here – but certain set pieces, such as a neon squid-lit theatre and a jail-break sequence saves the day.
Swapping the idea of a one-man show-inspired lead to a colourful ensemble of all different kinds of animals, Sing cashes in on three things audiences just can't seem to get enough; singing competitions, talking animals and a good ol' underdog story. Its themes might satisfy but sadly, on occasion, it renders itself a zany, overly-loud jukebox musical rather than a memorable piece of cinema.
Nevertheless, while it may not possess the uniqueness of Kubo And The Two Strings or the profundity of Inside Out – it caters to a much younger audience than those aforementioned recent animations – it has more than enough heart and fun about it to keep you entertained for a couple of hours. The final verdict? Sing is the perfect toe-tapping antidote to those post-Christmas blues.
© Copyright IBTimes 2023. All rights reserved.