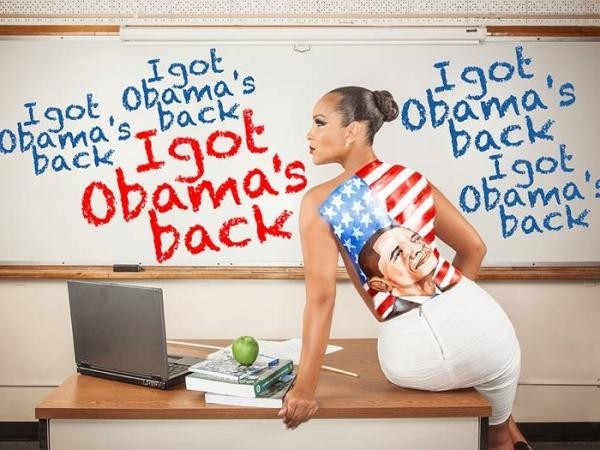 Just weeks after Clueless star Stacey Dash faced a racially charged backlash for endorsing Republican Mitt Romney on Twitter, another black actress has tweeted her own political statement.
Single Ladies actress LisaRaye McCoy has shown her support for President Obama by uploading a snap of herself with his portrait and an American Flag painted on her back.
The image captures the 45-year-old star sitting on a desk in a classroom, with her back turned to the camera.
The intricate portrait of Obama is inked on her bare back while the words, "I Got Obama's Back" are written multiple times in red and blue on the chalkboard in front of her.
She captioned the image: "#IGotYourBack @BarackObama #Vote @Obama2012"
In an interview with celebrity website Celebuzz.com, McCoy explained why she chosen to go public with her support.
"I don't think people seem as excited about this presidential campaign as they were four years ago. For this campaign, I just wanted something that would make an impact," she said.
"I wanted to say why I'm behind President Obama in this election, and I want to encourage everyone to vote. I have Obama's back, and I want everyone to have Obama's back.
She added: "At the end of the day, President Obama still has to prove himself regardless of what I have to say, but if I can use my voice to encourage and motivate people to support him, then I will do whatever I can."
The image, however, has left fans divided. While some claimed it has artistic merit, others branded it just as distasteful as the photo posted by Dash - in which the actress poses provocatively in front of an American flag dressed in a revealing red bathing suit.
One viewer said: "Very artistic and tastefully done. Great job tying Obama in with the education system that he is fighting so hard to give everyone access to."
Another wrote: "This is worse than Stacy Dash's pic for the simple fact that she has NO SHIRT ON!! Both are lame if you ask me. But since its done in support of Pres. Obama, it will be accepted by the black community #hypocrites"