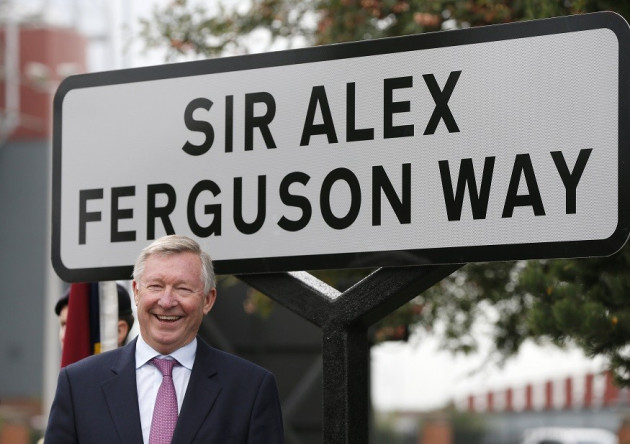 Former Manchester United boss Sir Alex Ferguson has had a road named after him in honour of his achievements at the Old Trafford club.
The 71 year old unveiled the 'Sir Alex Ferguson Way' road sign around the corner from the Old Trafford stadium where he became Britain's most successful ever football manager. The re-named road was formerly known as Water's Reach.
Trafford Council also made Ferguson a freeman of the borough in recognition of the 13 Premier League titles he brought to the Old Trafford trophy room. The Scot also won the FA Cup five times and the Champions League twice, among the 38 pieces of silverware United amassed under his leadership.
Speaking at the unveiling of the road named after him, Sir Alex called it: "truly humbling."
He said: "It's a privilege and an honour to have a road named after me. You don't expect these things in life.
"It encapsulates probably the last 26 years - coming to the great club, the history of it. It's been an incredible journey for me, ending today for me to unveil this road sign: Sir Alex Ferguson Way.
"I'm really proud of that and I'm proud of everyone who has been associated with the club.
"I'd like to thank Manchester United for inviting me down here, 26 years ago. It was a fantastic elevation in my life and a challenge I accepted. And we are where we are now.'
"Over quarter of a century later, to receive the Freedom of the Borough of Trafford, and to have a part of Trafford carrying my name, is truly humbling."
Trafford Council leader councillor Matt Colledge hailed Ferguson's legacy.
He said:"Sir Alex has contributed significantly to Trafford over a sustained period of time through his strong leadership of the Manchester United team and it was felt that the Honorary Freeman title and the renaming of the street was a fitting tribute to him.
"Football contributes significantly to the borough through the large number of visitors it attracts and jobs it creates.
"It has been through the success of the team that the club has grown in strength over the years, becoming one of the world's most successful and renowned clubs."