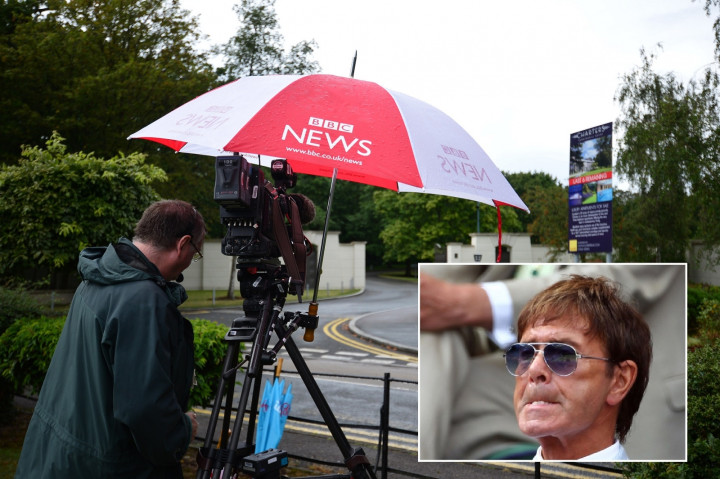 Police have denied tipping off the press that Sir Cliff Richard's home was to be searched amid claims he sexually abused a boy under 16 in the 1980s.
TV crews were waiting when five cars carrying eight police officers arrived at the 73-year-old's luxury penthouse flat in Sunningdale, Berkshire, to execute a search warrant on Thursday 14 August.
Richard railed against the police by implying they had told the media about the search but not him.
The singer - who is understood to be somewhere in Portugal - said: "The police attended my apartment in Berkshire today without notice, except, it would appear, to the press."
That was denied by Thames Valley Police, which was part of the operation led by officers by South Yorkshire constabulary.
A spokesman for Thames Valley said: "Thames Valley police did not speak to any media outlets prior to the warrant being executed in Sunningdale, Berkshire, yesterday.
"This is a South Yorkshire Police investigation and local officers from Thames Valley Police assisted South Yorkshire officers in their search of the property."
On Friday, a senior Tory MP got involved on Richard's side. Nigel Evans - who battled and defeated claims he raped a man, said the singer was "right to be angry".
Evans, a former deputy speaker of the House of Commons, said "questions had to be answered" about how the BBC knew to be outside Richard's flat.
He said: "It appears the press knew what was happening before he did and the world's media were camped outside his doorstep.
"A press helicopter was up before the police even arrived – he is quite right to be angry about that. Questions have got to be answered."
Evans said persons of interest in police investigations deserved anonymity during the early stages.
"We have to recognise the impact this has on people. People have 0% of the facts and 100% of the opinions. It's quite wrong for people to pre-judge."
The inquiry continues.