A German sausage dog named Sissi has become the latest psychic animal to predict a major sporting event by forcasting Bayern Munich to win Saturday's Champions League against Chelsea.
The dog follows the success of Paul the Octopus, who gained cult status during the 2010 World Cup by correctly predicted all eight of Germany's results, including their final defeat to Spain.
Sissi made the popular decision of choosing Bayern in front of a home crowd, after eating from the dog bowl over the Bundesliga club's name.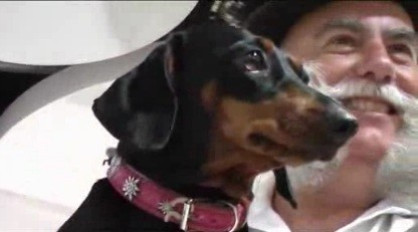 "The decision was right," said owner Werner Waldhutter. "We were hoping for it, we didn't practice it all, while discussing it beforehand we hoped that the dog would at least make it as far as looking into the bowl.
"We didn't know if she would like the food or not. There was a lot going on and the dog was a bit nervous. But it all worked out fine."
If correct, Sissi is likely to be employed during the upcoming European Championships in Poland and Ukraine, with Germany among the favourites to succeed Spain as continental kings.
After an indifferent showing during Euro 2008, Paul the Octopus successfully predicted every one of the German's results two years ago, as Joachim Low's side reached the final in South Africa.
Had punters sided with all of Paul predictions, odds of 256/1 would have been available to them, so with the Champions League final working as the acid test for Sissi's psychic skills, many bookmakers will be taking note.
Bayern have home advantage this weekend against a Chelsea side who have battled through adversity to reach their second final in five years.
Without a permanent manager since the sacking of Andre Villas-Boas, interim boss Roberto Di Matteo has taken the reigns, with wins over Napoli and Benfica being preceded by a thrilling win over holders and overwhelming favourites Barcelona.
Underdogs going into the clash at Bayern's home; the Allianz Arena, Blues supporters will be hoping Sissi has made a dog's dinner of predicting their demise.