Direct action group East End Sisters Uncut has occupied an empty flat in Hackney to draw attention to the lack of available council houses for women fleeing domestic violence.
The council flat in Marian Court has been taken over by the feminist group and is being used as a community space after it uncovered shocking statistics that showed domestic violence survivors are unlikely to find a safe space in the area despite a large number of empty homes.
The figures make for sobering reading – according to the group two thirds of women are turned away from refuges in Hackney or forced into mixed hostels, while 1,047 council homes in the borough sit empty.
"This came off the back of an FOI we made that said there were 1,047 empty council flats in Hackney, but the council are now disputing that number" group member Sarah Kwei told IBTimes UK during a visit to the occupied property.
"The idea came after talking to a woman who said housing was the biggest issue she faced in the area. She said she knew there were so many properties in the area, and then we found out how many from the council. It is just such a waste of resources to be moving families away from the areas they live and out to Essex when there are homes here – it's outrageous.
"We have had a bit of dialogue with the council today and have sent a letter to acting mayor of Hackney, Labour councillor Philip Glanville, and he has accepted a meeting. We have demanded that Hackney Council fill all 1,047 homes, that women fleeing domestic violence are no longer placed in hostels and that no more council houses are lost to estate regeneration plans."
Marian Court is earmarked for one such regeneration project, which will see the 75 homes in the three blocks 'redeveloped' for social housing, shared ownership and private sale – something many residents oppose.
"It's just gentrification, none of the so-called affordable housing is actually affordable," Kwei explained as the group's new neighbours nodded along, each offering up their own experiences of looking at 'affordable' housing in the area.
The council is currently on the lookout for a development partner for the project, in a sought-after area that is a stone's throw from Homerton station and a short journey to trendy Dalston. "One neighbour said they're pleased we're here as it means the council are less likely to get rid of the estate," Kwei added.
The group launched its occupancy of the flat on 9 July with a banner unveiling and barbecue, and has been running community events – including a morning kids' club, immigration workshops and art therapy – from the women-only space since then.
And the occupation has garnered the respect of neighbours on the estate, who are fully behind the direct action, many of whom pop into the space for a cup of tea or to join in one of the organised actives.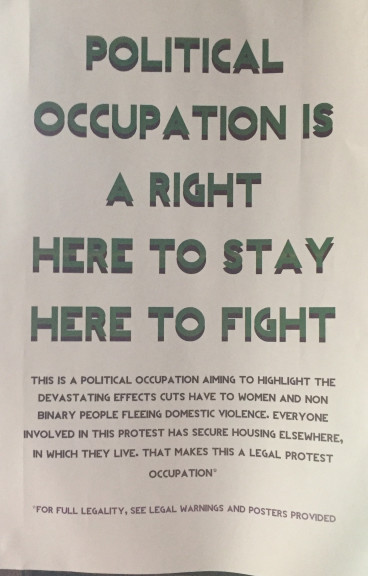 "I think what they are doing is amazing," one upstairs neighbour, who chose to remain anonymous, said. "I find it inspiring that people are willing to step up and help people who are going through domestic violence.
"They are doing it through themselves and not for money. It's a big inspiration to me and now I know about it, I'm down here all the time."
There are always at least 10 members of the group in the occupied property at any one time, in case the police do intervene, although the Sisters are hopeful the issue will be resolved by the council. But they are very clear they will not be moving until the council has taken their requests seriously.
"We will stay here indefinitely, we'll be here until our demands are met," Sisters Uncut member Nadine Forde added.
With a meeting to be confirmed with Cllr Glanville, who tweeted the group that he had received their email and would be in touch to organise something soon, the group is hopeful but settling in for the long haul – something their new neighbours don't mind at all.
Before they came here, I had never spoken to anyone on the estate," one neighbour added. "They have bought us community spirit."