Israeli government-backed archaeologists believe they have found the site where the trial of Jesus before the Romans was held, a location near the Tower of David Museum in Jerusalem.
The trial of Jesus, where Roman procurator Pontius Pilate sentenced Christ to death, is believed by some to have taken place in a part of Herod's Palace.
But its exact location and the route taken by pilgrims from the trial to where Jesus was crucified and buried (known as the "Via Dolorosa") continues to be hotly debated by archaeologists, historians, Christian spiritual leaders and scholars.
According to the Washington Post, the remains of Herod's Palace were found by Jerusalem district archaeologists 15 years ago beneath an abandoned building located adjacent to the Tower of David Museum in Jerusalem's Old City.
The building was being excavated as part of plans to expand the Tower of David Museum and beneath it, an old prison was discovered, which was in use when the area was under the control of the Ottoman Turks and the British, prior to the creation of Israel.
But while peeling back the layers of the prison, archaeologists discovered fabric-dyeing basins dating back to the Crusades, together with foundations walls and an underground sewage system possibly belonging to the huge palace built by Herod the Great.
The Gospels state Jesus of Nazareth was brought before Pontius Pilate in the "praetorium", a Latin term referring to the tent of a general in a Roman encampment.
Some scholars argue the praetorium would have been located in the Roman military barracks, which was at Antonia Fortress, about 1km away, while others say Pilate would have been a personal guest of King Herod, and as such, the trial took place in the palace compound.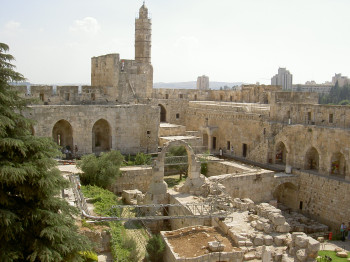 In the Gospel of John, the trial of Jesus was described as taking place near a gate and on a bumpy stone pavement, and these details seem to fit with previous archaeological findings near the prison.
"There is, of course, no inscription stating it happened here, but everything — archaeological, historical and gospel accounts — all falls into place and makes sense," Shimon Gibson, an archaeology professor at the University of North Carolina, told the Washington Post.
The Tower of David Museum stands on the site of the Jerusalem Citadel, an ancient citadel dating back to the Mamluk and Ottoman periods located near the Jaffa Gate entrance to the Old City.
The museum says the tour of the underground complex "reveals the timeline of Jerusalem" and visitors can expect to see archaeological discoveries from many different periods in history.
The tour lasts for two hours and tickets cost 45 Israeli New Shekel (£7.50, $11.40) for adults and 35 Israeli New Shekel (£5.80, $8.87) for students.
In December, archaeologists announced they had discovered an unused gateway leading to Herod's Palace underneath Herodium, a hilltop fortress built 12km south of Jerusalem.