Sky Sports Pundit Queries 'Strange Decision' from Chelsea Manager
Fernando Torres decision 'made more of a public show of him' claims Kamara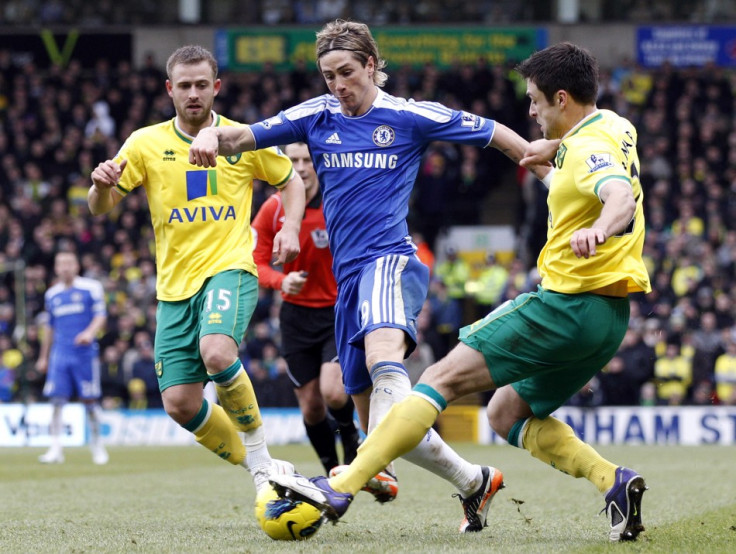 Chelsea manager Andre Villas-Boas should have left Fernando Torres on the pitch during the Blues' stalemate at Carrow Road on Saturday, according to Chris Kamara.
Although Torres failed to find the net yet again for Chelsea, the Spaniard's efforts were palpable and Kamara believes Villas-Boas' handling of the Blues' £50 million record signing is further undermining his evidently low confidence.
In the absence of Didier Drogba, who is at the Africa Cup of Nations with the Ivory Coast, Torres is likely to be afforded a lengthy spell in Chelsea starting line-up, and Kamara feels the World Cup winning forward needs to feel that he has the backing of the manager.
Torres was substituted on 77 minutes for Romelu Lukaku and although Torres' struggles are clearly not helping Chelsea's efforts to maintain the pace with Tottenham, Manchester United and Manchester City, Kamara believes the club need to invest more time and faith in the former Liverpool talisman.
"Anyone who understands strikers knows in that particular game against Norwich you leave Fernando Torres on the pitch; that was a strange decision from Andre Villas-Boas to bring him off." Kamara told skysports.com when discussing the Chelsea manager's handling of the club's record signing.
"It made more of a public show of him, in his own head he knows he had an opportunity to score and if he'd have stayed on he may have got one, you just never know in football.
"He's the type of person you've got to stand by and play in every minute of every game. When you've got (Didier) Drogba away that's his opportunity to perform.
"At the moment it looks like it's not going to work out for him but you never know."
Torres has now not scored for either Chelsea or Spain in 17 consecutive matches and despite his admirable endeavour, his malaise has been hugely alarming given his lofty fee.
In the aftermath of the match Villas-Boas told The Guardian: "It is just efficiency and timing of arrival and that is sometimes down to misfortune. One day I think things will go for him.
The Chelsea manager concluded: "It comes also with practice and doing the extra work that we present optionally to all the players - [Torres] has been doing it constantly."
© Copyright IBTimes 2023. All rights reserved.