The son of Kim Jong-nam, the slain half-brother of North Korean ruler Kim Jong-un, could be next on Pyongyang's hit list, Thae Yong-ho, a former North Korean ambassador to the UK has warned.
Kim Han-sol broke his silence over his father's alleged assassination in a video that surfaced on 7 March.
Thae was of the view that Han-sol could be the next victim after his father, who was allegedly assassinated by the North Korean agents, according to the US and South Korea.
"Behind it all, there's Kim Jong-un's desire to solidify his legitimacy as the leader," South Korean news agency, Yonhap quoted Thae as saying.
He said that even Kim Han-sol's existence "cannot be tolerated from the perspective of Kim Jong-un. It remains to be seen how possible his survival would be".
The former diplomat at the North Korean embassy in London defected to Seoul along with his family in August 2016, becoming one of the highest-ranking officials ever to defect from the Democratic People's Republic of Korea (DPRK).
Speaking to Japanese reporters in Seoul on Wednesday (8 March) about the high-profile murder case, Thae said: "Kim Jong-nam had been the biggest obstacle for Chairman Kim's pursuit of long-term power in North Korean society heavily influenced by Confucian culture."
He added that Jong-nam's popularity in the foreign media increased the chances of North Koreans becoming aware of his existence, thereby "burdening Kim Jong-un".
Thae's comments came a day after Han-sol appeared in a 40-second video from an unidentified location. It was published on 7 March by a South Korean group called Cheollima Civil Defense, an organisation that focuses on rescuing North Korean defectors and refugees.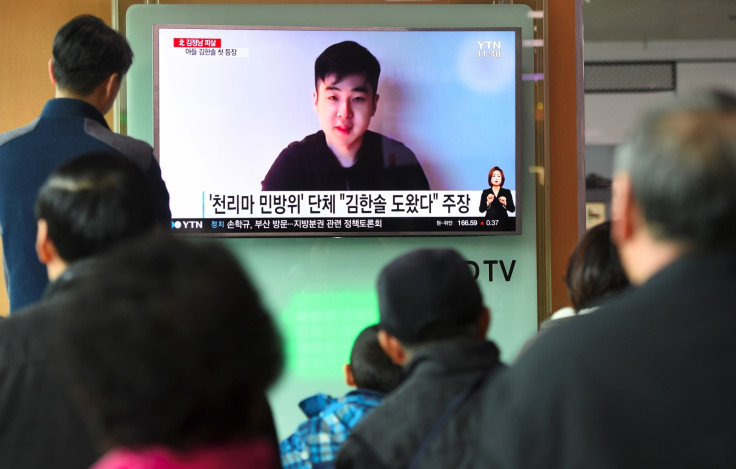 In the video, the 21-year-old identified himself as "Kim Han-sol from North Korea, part of the Kim family". Without disclosing his location, Han-sol, dressed in black, said he was currently with his mother and sister. He showed his passport as proof as to who he claims to be. However, the particulars on the passport were blacked out in the video.
South Korea's spy agency confirmed his identity as that of Kim Jong-nam's son, according to Yonhap.
Han-sol's appearance comes as Malaysian authorities investigating his father's murder have been calling for the family of Jong-nam to come forward and claim his body after providing them with DNA sample.
Jong-nam was allegedly killed on 13 February at Kuala Lumpur international airport after being poisoned by a highly toxic VX nerve agent.