The son of Kim Jong-nam, the half-brother of North Korean ruler Kim Jong-un assassinated in Malaysia on 13 February, made a rare video appearance, speaking publicly for the first time since his father's death.
The video was published on 7 March by the Cheollima Civil Defense, an organisation that focuses on rescuing North Korean defectors and refugees, and appeared to show the 21-year-old, who identified himself as "Kim Han-sol from North Korea, part of the Kim family".
Who is Kim Han-sol?
Kim Han-sol first attracted international attention when he moved to Bosnia to study at the United World College in Mostar, an international boarding school offering a multicultural learning environment and a mission to create a peaceful and sustainable future. He was the first North Korean student to attend the school, and indeed one of the first members of the secretive North Korean ruling family to be interviewed in Western media.
Speaking to Finnish broadcaster YLE in 2012, Kim Han-sol talked about his life, his relationship to his family and his hopes for the future.
Born in North Korea, he said he lived an ordinary yet isolated life in the country, until he moved to Macau after his father, who had been tipped to be the first in line to Kim Jong-il succession, reportedly fell out of favour with the regime after attempting to enter Japan to visit Disneyland with a fake passport in 2011. He would still come back to North Korea to visit his relatives, presumably his mother's family as he said he never met his paternal grandfather.
At his school in Macau he met people from other countries, including the US and South Korea, which sparked a desire about seeing more of the world and leaving Macau to study elsewhere. After graduating from UWC Mostar, Kim Han-sol moved to France in 2013 to study for a Bachelor degree in social science at the Sciences Po campus of Le Havre, where students follow the Europe-Asia programme. Following the assassination of Kim Jong-un's uncle Jang Song-thaek, Kim Han-sol was assigned police protection and asked journalists to leave him alone, as reported by South Korean media.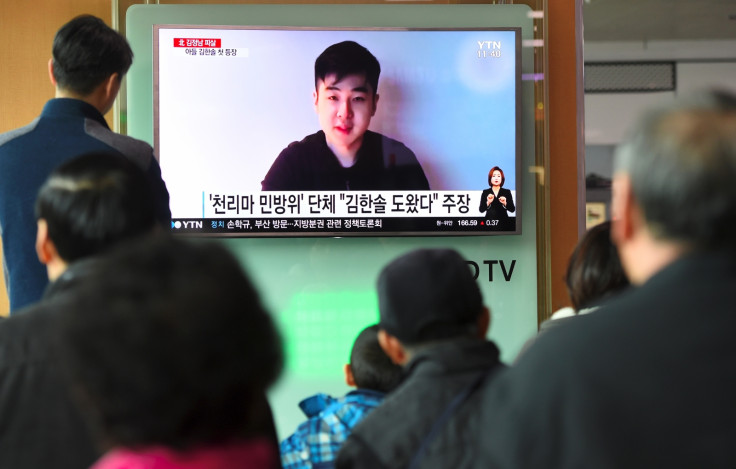 Where is Kim Han-sol now?
His current whereabouts are unknown. South Korean intelligence officers said they believe his family where living until recently in Macau under Chinese government protection, the New York Times reported.
In the video posted by the Cheollima Civil Defense, Kim Han-sol said he is with his mother and sister. The group said they assisted the three family members to relocate them to safety, but that the family's whereabouts will not be addressed. In a statement, the group thanks the governments of the Netherlands, China, the US and a fourth, unnamed one, for the support received in helping the family.
According to British tabloids, Kim Han-sol was admitted to Oxford University to further his education, but had to turn down the offer after his father's assassination. In the 2012 interview, Kim Han-sol said that after completing his studies, he was going to focus on volunteering and peace-building projects. "I have always dreamed one day I will go back and make things better, make it easier for all the people there," he told the interviewer.
What does Kim Han-sol think of Kim Jong-un?
Kim Han-sol said in the 2012 interview he never met neither neither his grandfather Kim Jong-il nor Kim Jong-un, who succeeded him as the country's supreme leader after his death in December 2011.
In fact, he hardly even know who his paternal grandfather was and only understood later in life he was North Korea's ruler, after piecing together conversations his parents had. "I really did not know if he knew I existed". Kim Han-sol said he was living the life of an ordinary citizen in North Korea, before the family left the country to live in Macau. "My dad was definitely not really interested in politics. I really don't know how he [Kim Jong-un] became a dictator ... It was between him and my grandfather," he added.
He expressed a strong desire for the reunification of the country. "I also dream of reunification because it's really sad that I can't go to the other side [South Korea] and see my friends there."
He added: "It is just political issues that divide the nation in half."