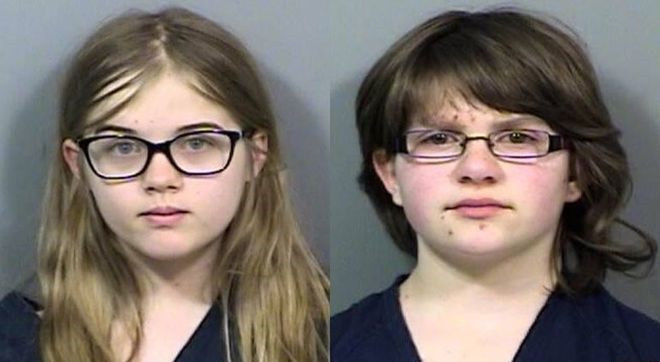 Two 13-year-old girls accused of stabbing a classmate to please the macabre online horror character Slender Man, have pleaded not guilty to the attack. Morgan Geyser and Anissa Weier were charged with attempted murder over the attack in May 2014.
They reportedly lured their friend to woods in their home town of Waukesha, Wisconsin. The victim, who was 12 at the time, was stabbed 19 times. She was discovered by a passing cyclist, crawling from the woods with stab wounds to her arms, legs and torso. She survived as a result of the intervention by the stranger.
Following the attack, the suspects were found walking near a local highway. A knife was found in one of their backpacks. Their pair are alleged to have plotted for months to attack their friend after being inspired by a story they had read on a website called Creepypasta.
They told police that they had stabbed her to please the Slender Man, who they believed was real, and wanted to commit a murder as the first step to becoming acolytes. They spoke of their desire to become the paranormal figure's "proxies" by killing to demonstrate their loyalty, police said.
Their lawyers have previously argued for the case to be heard in juvenile court, saying both teenagers were suffering from mental illness. Psychologists reported that Morgan Geyser believed that she could speak to fictional characters, including the Harry Potter villain Voldemort.
However, a Wisconsin judge decided that they should be tried as adults. A lawyer for one of the girls told the AP news agency before the hearing that his client would enter a plea of not guilty by reason of mental disease or defect.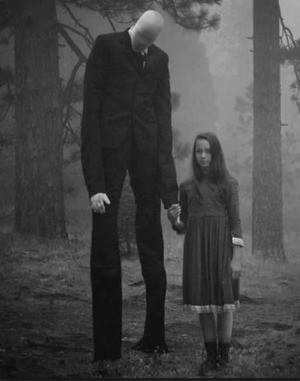 A judge entered not guilty pleas on behalf of both girls at a hearing on Friday (21 August). If convicted, the teenagers could face up to 60 years in prison.
The victim has recovered and since returned to school.
The Slender Man character is often the subject of online horror stories written by teens. Dubbed the "first great myth of the web" by journalist Aleks Krotoski, the Slender Man is a spectral image with no face, in an ill-fitting suit, who lurks in the background of doctored images. The creepy images have gone viral since 2009.
In the myth, Slender Man has several origins, including Germany's Black Forest, ancient Egypt and cave paintings in Brazil. In reality, the Slender Man was created in a thread on the Something Awful internet forum in 2009, to be edited into photographs for a supernatural effect.