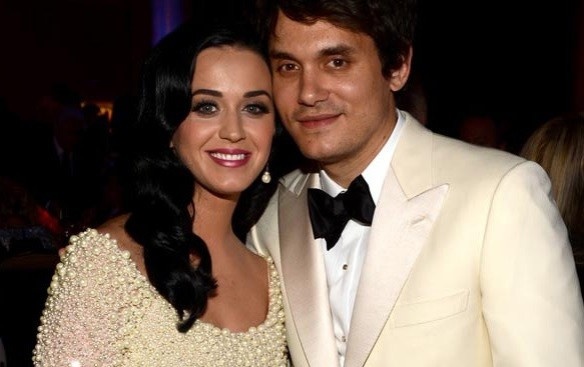 John Mayer has given fans a glimpse of his softer side after dedicating a love song to his girlfriend Katy Perry during a gig.
The singer-songwriter confirmed that their recently rekindled romance was going strong by making a public dedication to Perry at the launch of his Born and Raised World Tour at the Marcus Amphitheatre in Milwaukee, Wisconsin.
Mayer, 35, thanked the I Kissed a Girl hitmaker, who was in the audience, for her support during his recovery from throat surgery. He then dedicated the night's final song, A Face to Call Home, to "Katy, who is my face to call home".
"She was so patient. [She took the time] to continue to get know me and love me," he told the crowd.
The dedication aome days after Perry, 28, shared a picture of the couple snuggling up on 4 July in matching stars and stripes gear. She captioned the snap: "Whose broad stripes and bright stars?"
According to reports, the couple, who split in March 2012, was "very lovey-dovey" when they were last seen together at a Friars Club roast in New York.
Mayer had to use a vocal cord lubricating spray to help him get through the concert, which marked his first solo headlining show since surgery in 2012.
He told the crowd: "I've spent many months dreaming of this night. It's a long time coming."
Mayer's other A-list exes include Jessica Simpson, Lindsay Lohan and Taylor Swift.
Perry was previously married to British comedian Russell Brand.