A Welshman addicted to the synthetic "zombie drug" Spice bit a chunk out of a policeman's arm while in a snarling frenzy brought about by withdrawal symptoms, it has been revealed.
Leroy Parry, 24, was frothing at the mouth when he sank his teeth into PC Geraint Phillips's arm for an entire minute while the officer punched him repeatedly in the face in an attempt to break free.
The Swansea resident "behaved like an animal" and assaulted three other officers during the attack on 7 April, according to Wales Online.
Parry later regained his composure in custody and apologised, saying: "I'm sorry for biting you. I'm clucking for [withdrawing from] Spice and it's f**king me up."
A court heard he had been addicted to the drug, a synthetic cannabidoid outlawed last year along with other so-called 'legal highs', for nearly six years.
Phillips had initially been searching for Parry in connection with a violent disturbance when he encountered the addict on Wind Street in Swansea.
When he spotted Phillips, he approached him and the addict immediately bit him on the left bicep.
Prosecutor Tom Scapens said: "[Phillips] could feel this bite through a long sleeve work shirt and two fleeces. He said Leroy Parry was 'animal-like'. He was in so much pain he was going into shock."
Phillips tried to pull his arm away but this caused Parry to bite down even harder. Eventually, after several punches to the face, Parry released his grip.
Phillips went to hospital for treatment and blood tests. He was left with a gaping wound on his arm that Scarpens said "made him feel physically sick" to look at.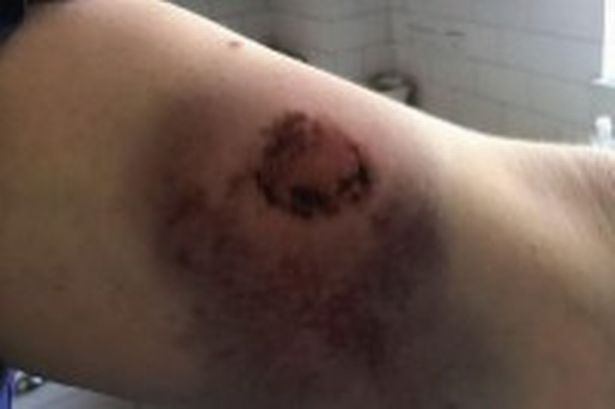 In total it took seven officers to restrain Parry and bundle him into the back of a police van. He bit one of them on the hand, tried to headbutt another and spat blood at a third.
Parry, who had 41 previous convictions and form for assaulting police, pleaded guilty to affray, assault and causing actual bodily harm. He was sentenced to 20 months in prison.
Inspector Mark Davies, of South Wales Police, said: "This was a vicious attack upon a police officer going about his duty protecting members of the community and making an arrest.
"As a result of this assault, the officer received a serious bite.
"Nobody can justify this level of violence for somebody just doing their job. However, this incident demonstrates the very real potential dangers that officers face on a daily basis. When an officer leaves the station, they simply do not know what they might have to deal with at any given time."