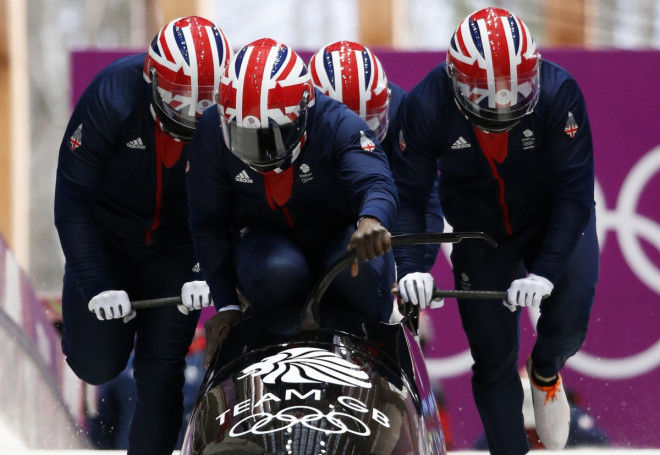 Where to Watch Live:
Live coverage of Day 15 of the Sochi Winter Olympics 2014 starts at 05:00 (GMT) on BBC2, red button, radio and BBC Online.
Events:
Snowboard – Men's and Ladies' Parallel Slalom (from 05.15)
Cross-country – Ladies' 30km Mass Start Free (from 09.30)
Alpine Skiing – Men's Slalom (from 12.45)
Speed Skating – Men's and Ladies' Team Pursuit (from 13.30)
Biathlon – Men's Relay 4x7.5km ( from 14.30)
Bobsleigh – Four-man Heats (from 16.30)
Ice Hockey – Men's Bronze Medal Game (17.00)
Brits to Watch:
Dave Ryding (alpine skiing), John Baines, Stuart Benson, Lamin Deen, Joel Fearon, John Jackson, Benjamin Simons, Bruce Tasker and Andrew Matthews (bobsleigh).
Highlights:
Bobsleigh
Pilot John Jackson and his crew have had a long wait for their event on the penultimate day of these Sochi games.
Jackson and brakemen Joel Fearon, Bruce Tasker and Stuart Benson are in good shape after taking silver in the World Cup in Lake Place in December and at the European Championships in January.
"The Sochi track seems to suit my driving style quite well," said Jackson.
"We gelled with the track straight away. We came fifth in the Olympic test event in February so we are hoping to make the step up into the top three and see how we go from there."
John Baines, Lamin Deen, Benjamin Simons, and Andrew Matthews race in Great Britain's no. 2 crew.
Alpine Skiing
Britain's Dave Ryding is the Europa Cup champion in the men's slalom however Marcel Hirscher of Austria is firm favourite for the gold as reigning world champion.
Other names to keep an eye out for in this final alpine event are Germany's Felix Neureuther and Alexis Pinturault of France.