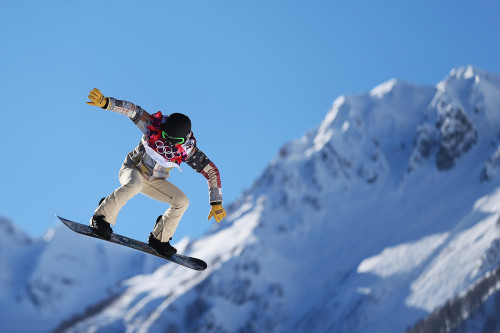 Events:
Biathlon – women's 10km pursuit
Cross-Country – Ladies' sprint free, men's sprint free
Curling – women's round robin sessions two and three, men's round robin session three
Figure skating – pairs short programme
Freestyle skiing – ladies' slopestyle
Ice hockey – women's group B prelim round
Luge – women's singles run three
Ski jumping – ladies' normal hill
Snowboard – men's halfpipe
Speed skating – ladies' 500m
Highlights:
Freestyle skiing
Dara Howell took the ski slopestyle gold at the Rosa Khutor Extreme Park, leaving Britain's Katie Summerhayes, 18, in seventh place.
Curling
The men and women finished day four with a win each as the women beat the USA 12-3, which included an Olympic-record equalling seven points in the fourth end, while the men narrowly overcame the Germans 7-6 after the German skip was off target with his last stone.
Snowboard
The snowboard halfpipe competition went on all day after a delay but it was certainly worth the wait after Switzerland's Louri Podladtichikov took an unexpected gold leaving reigning Olympic champion Shaun White gracious in defeat and out of the medals in fourth place.
White, who admitted he could deal with a loss so long as he performed at his best, was one of many riders to succumb to the tough conditions in the halfpipe and had pulled out of the snowboard slopestyle ahead of the Games to concentrate his efforts on his preferred snowboard discipline.
Cross-Country
Andrew Musgrave was Britain's great hope in this event after coming first in the Norwegian cross-country championships in January.
The 23-year-old was however knocked out in the quarter-finals of the cross-country sprint, performing well under his own expectations and leaving Ola Vigen of Norway to take gold.