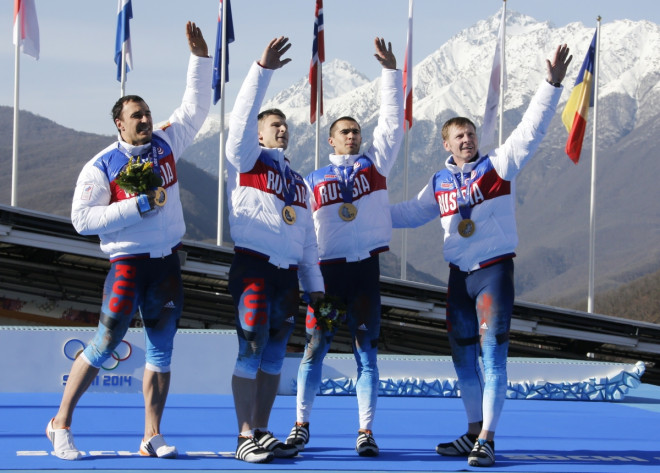 Russia dominated the podium places on the final two days of the Sochi 2014 Winter Olympics bagging four gold medals to go on top of the standings. Athletes representing the hosts won the Biathlon - Men's 4x7.5km Relay and Snowboard – Men's Parallel Slalom on Saturday.
While Sunday saw Russia win four medals in total including two gold's. In the Cross Country - Men's 50km Mass Start Alexander Legkov, Maxim Vylegzhanin and Ilia Chernousov secured the three podium spots while the team comprising Alexander Zubkov, Alexey Negodaylo, Dmitry Trunenkov and Alexey Voevoda emerged victorious in the four-man Bobsleigh event.
Great Britain failed to win a medal on the final day after the team of Stuart Benson, John James Jackson, Bruce Tasker and Joel Fearon finished fifth in the four-man Bobsleigh.
Meanwhile, reigning Men's Ice Hockey champions Canada won their ninth Olympics gold after beating Sweden 3-0 in the final on Sunday. Jonathan Toews scored the opening goal in the first period before Sidney Crosby doubled their lead in the second period.
The third goal came from Chris Kunitz midway in the final period as Mike Babcock's men achieved their second straight gold in Winter Olympics.
Taking a look at the final medals tally the top five ranks in the 2014 Winter Olympics are as follows:
Rank Nation - Gold / Silver / Bronze - Total
1 Russian Fed. - 13 / 11 / 9 - 33
2 Norway - 11 / 5 / 10 - 26
3 Canada - 10 / 10 / 5 - 25
4 USA - 9 / 7 / 12 - 28
5 Netherlands - 8 / 7 / 9 - 24
For a full list of medals tally check the Sochi official website.
You can also refer to 'Find The Data' which provides a complete list of medals won by all participating nations.