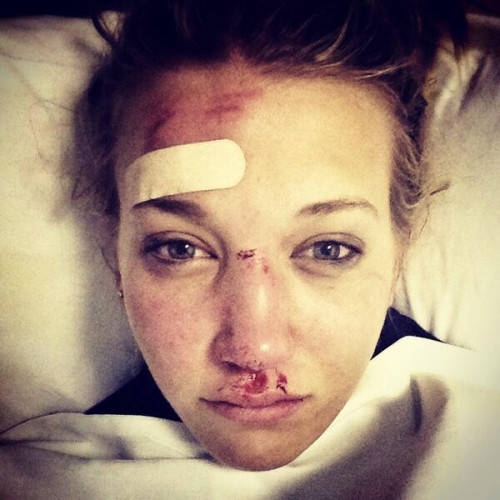 British halfpipe skier Rowan Cheshire has tweeted a picture of her facial injuries after spending a night in hospital having been knocked unconscious during training.
The 18-year-old from Stoke is the latest casualty of the Rosa Khutor Extreme Park.
The accident follows a very serious injury to Russian freestyle skier Maria Komissarova who suffered a fracture and dislocation to her spine following training on Saturday.
Cheshire's injuries were thankfully less serious as the British Olympic Association confirmed that she had a concussion after falling heavily on her face.
It is unclear whether Cheshire will be fit to take part in the women's ski halfpipe competition which is due to take place on Thursday but she nevertheless remains in high spirits.
"Wasn't the best day yesterday, still don't remember much!" she tweeted before thanking everyone for their messages of support.
Komissarova meanwhile received a visit from Russia's president Vladimir Putin shortly after emergency surgery which lasted six-and-a-half-hours.
The Extreme Park has come under much scrutiny leading up to and during the Sochi Games with conditions having worsened due to unseasonably warm weather.
Vancouver 2010 gold medallist Shaun White pulled out of the snowboard slopestyle competition for fear of injury on what he called an 'intimidating' course.
International Olympic Committee president Thomas Bach however admitted that there was "a certain risk," associated with the freestyle sports.
"You will never be able to exclude every kind of risk - we feel very sorry for the athlete," the IOC chief said. "We hope that the operation will be successful and that she will be back."