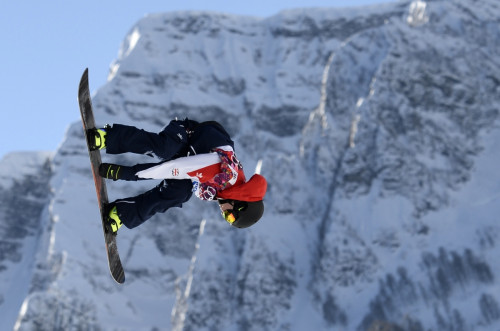 Where to Watch Live:
Live coverage of Day 1 of the Sochi Winter Olympics 2014 starts at 05:30 GMT on BBC2, red button, radio and BBC Online.
Events:
Snowboard – men's slopestyle semi-finals (05:30)
Ice hockey - women's group stage (08:00)
Snowboard - men's slopestyle final (08:45)
Cross country skiing - Ladies' Skiathlon 7.5 km Classic + 7.5 km Free (10:00)
Speed skating - men's 5,000m (11:30)
Freestyle skiing - Ladies Moguls qualification 2 (14:00)
Biathlon - men's sprint (14:30)
Figure skating - Team Ice Dance Short Dance (14:30)
Figure skating - Team Ladies Short Program (16:10)
Ski Jumping - Men's Normal Hill Individual Qualification Round (16:30)
Figure skating - Team Pairs Free Skating (18:05)
Freestyle skiing - Ladies Moguls finals from (18:00)
Freestyle skiing - Luge Men's singles run (from 14:30)
Brits to watch:
Lee Jackson (biathlon),
Jenna McCorkell, Penny Coomes and Nick Buckland (figure skating).
Stacey Kemp and David King (figure skating)
Billy Morgan, Jamie Nicholls, Jenny Jones and Aimee Fuller (snowboard).
Snowboard
All four Brits have a lot to prove on day one with the chance to put Britian's stamp on the new Olympic sport.
Nicholls was the only British rider to have made it straight through to the final but Morgan, Jones and Fuller are still very much in with a chance of a medal with a second shot at the final still to come.
Currently in top spot for the men is Canadian Maxence Parrot and for the women Anna Gasser of Austria.
Ice Hockey
The women's game has historically been dominated by Canada and the USA with this year is expected to be no exception as the two giants of ice hockey are expected to meet in the final.
Day one's women's group stage sees the USA face world No. 3 Finland and Canada take on Switzerland who are fifth in the world standings.
Cross Country Skiing
Skiathlon is another sport making its debut at the Sochi Games as skiers use both freestyle, which resembles the an ice skating type movement, and classic techniques involving skiing along pre-set parallel tracks.
Speed Skating
The Adler Arena will play host to the men's 5,000m speed skating where Dutchman Sven Kramer continues to dominate the sport.
Kramer is reigning Olympic champion and five-time world champion.
Freestyle Skiing
Day one sees the completion of the ladies' freestyle moguls competition where reigning Olympic champion Hannah Kearney looks to close out the competition.
Kearney will try to ward off a triple threat in the form of freestyle Canadian trio, the Defour-Lapointe sisters Chloe, Justine and Maxime who sit close on her shoulder.
Figure Skating
Britain didn't get off the best of starts in the team figure skating after Matthew Parr finished one from bottom in the men's singles despite pulling out a season's best.
British pairring David King and Stacey Kemp suffered a fall in their routine which saw them finish in last place.
The unfortunate duo will however have another chance to improve their position as the team competition resumes with the pairs free skating, short ice dance and ladies short programme where Jenna McCorkell is in action.
Biathlon
Lee Jackson is Team GB's offering to the world of biathlon while all eyes will be Martin Fourcade of France who was world champion in 2012.
Norway's Ole Einar Bjoerndalen will be looking for a twelfth medal in order to equal the record currently held by fellow Norwegian Bjoern Daehlie for the most medals won by a winter sports athlete.
Ski Jumping
While it's the first Olymypics that sees ski jumping included as a women's event, day one sees the men in action in the normal hill individual qualification.
One to look out for is Austrian Gregor Schlirenzauer who won bronze in Vancouver 2010 and has since taken the overall World Cup title in 2013.