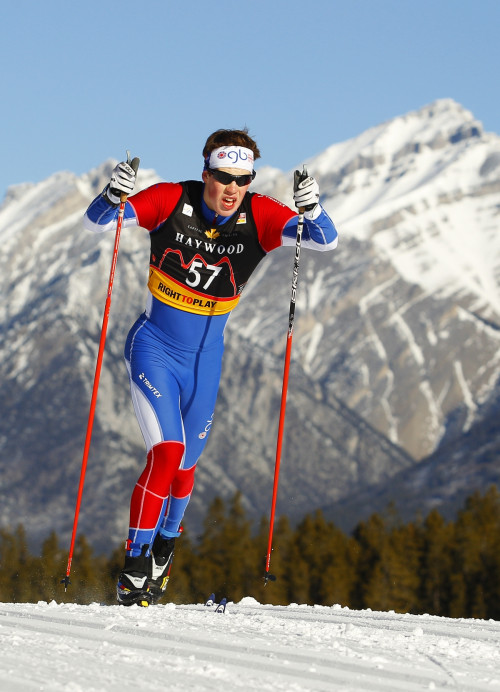 Where to Watch Live:
Live coverage of Day 4 of the Sochi Winter Olympics 2014 starts at 05:00 GMT on BBC2, red button, radio and BBC Online.
Events:
Curling - women's round robin sessions 2 and 3, men's round robin session 3 (from 05:00)
Freestyle skiing - ladies' ski slopestyle qualification (06:00), ladies' ski slopestyle final (09:00)
Ice hockey – women's preliminaries group B, Germany v Sweden and Russian v Japan (10:00 & 15:00)
Cross country skiing – ladies' and men's sprint free, qualifiers, quarter-finals, semi-finals and finals (from 10:00)
Snowboarding – men's halfpipe qualification, semi-finals and finals (from 16:30)
Speed skating – ladies' 500m race 1 (12:45), race 2 (14:34)
Luge – women's singles run 3 (14:30), women's singles run 4 (16:20)
Figure skating – pairs short program (15:00)
Biathlon – women's 10km pursuit (15:00)
Ski jumping – ladies' normal hill trial, 1st round and final round (from 16:30)
Brits to watch:
Andrew Musgrave, Posy Musgrave, Callum Smith, Andrew Young (cross country skiing)
Team GB (curling)
David King and Stacey Kemp (figure skating)
Katie Summerhayes (freestyle skiing)
Dom Harington, Ben Kilner (snowboard)
Amanda Lightfoot (biathlon)
Curling
The curling continues with two more sessions in the women's round robin and one in the men's competition.
Great Britain's men beat Russia 7-4 in the first session and will face Sweden in their second session before taking on Germany on day 4.
The women fell to a 4-6 loss to Sweden but will hope to put a win on the board against the USA.
Both men and women will play nine competitors in total before the medallists are crowned.
Freestyle skiing
Day 4 sees the return of the slopestyle but this time we say goodbye to the boarders and welcome those on two skis to test their limits on the Rosa Khutor Extreme Park.
Katie Summerhayes of Great Britain is in action, hoping to translate her World Cup sliver into an Olympic Games medal.
Summerhayes' hopes of a medal are boosted by the withdrawal of X Games champion and Norwegian Sjastad Christiansen.
Keep your eye on Lisa Zimmermann of Germany who is also hot favourite.
Ice Hockey
The USA got the women's ice hockey off to a flying start with a 9-0 win over the Swiss as Canada get to work on Finland in group A.
Day 4 sees the turn of group B as Sweden take on Germany, both just a world ranking apart at sixth and seventh respectively.
In the second game of day 4 the home nation takes to the ice as world No 4 team Russia look to cruise by Japan who are 10th in the rankings.
Cross country skiing
There are plenty of Brits to look out for in this event as Andrew Musgrave, Posy Musgrave, Callum Smith and Andrew Young all fight for a chance to take Britain's second medal of the games.
Britain's best bet is Andrew Musgrave who is fresh off the back of conquering the world's best for victory in Norway's national championships in January.
Snowboarding
This is the event made so famous in Vancouver 2010 by American Shaun White – the halfpipe.
We can only expect big things from the reigning Olympic Champion considering he so publicly pulled out of the snowboard slopestyle to avoid injury and concentrate all his efforts on his favoured discipline.
The British interest in this event comes in the form of Dom Harington who makes his Olympic debut and Ben Kilner who finished in 18th place in Vancover.
Harington and Kilner will have been boosted by Jenny Jones' bronze-medal success in the snowboard slopestyle at the weekend.
Figure Skating
David King and Stacey Kemp have a second shot after finishing in last place when Kemp fell in the team pairs competition to pick up just one point for Team GB.
Biathalon
It's another big day for Amanda Lightfoot who has become only the second British female ever to compete in the biathlon at an Olympic games.
Her first outing saw her finish in 75th place in the 7.5km sprint with a time of 24:48.9 but she insists she is ready and raring to go for the 10km pursuit.
Lightfoot first started skiing in the military in 2006 and now trains in Norway for most of the year.
Ski jumping
Although we don't have a Great British representative in the women's ski jump we must give a big shout out for the sport nevertheless.
Women have finally been given the green light to compete in their own ski jump competition at the games after years of fighting and a court battle.
American world champion and would-be favourite Sarah Hendrickson has only recently recovered from ligament damage, knocking her down a few pegs in terms of expectation.
This perhaps creates the perfect opportunity for teenager Sara Takanashi from Japan to make an early impact so soon into her young career.