Sochi Winter Olympics 2014: Elise Christie Disqualified After Second Place Finish in Short Speed Final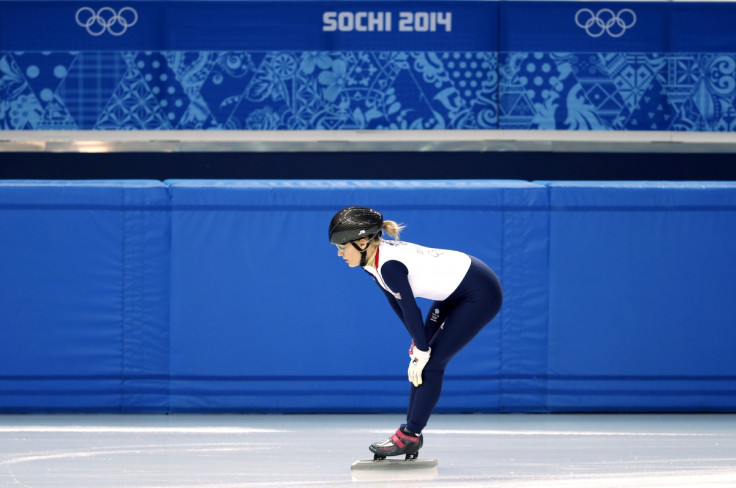 Elise Christie missed out on a medal after being disqualified in a dramatic final of the 500m short track speed skating at the Winter Olympics in Sochi after finishing second.
Three of the four participants – including Christie – fell at the opening stages of the first lap but the Briton recovered first to cross the finish in second behind China's Li Jianrou who crossed the line unchallenged at the Iceberg Skating Palace.
Following the chaos, judges ruled that 23 year-old Christie had caused the three woman pile up at the start, a decision that saw her slip from second to fourth with Italy's Arianna Fontana securing silver with Seung-Hi Park of South Korea claiming the final podium spot.
Christie has since been additionally penalised and dropped to eighth overall, behind all the B-finallist racers.
An emotional Christie disagreed with decision that saw his disqualified, telling BBC Sport: "No, I thought she hit me. I was not sure if it would go my way, I did not think it would be me [to be penalised] but it was. You have to respect the decision.
"I have not watched it back so I cannot comment. During the race, I thought I was in front.
"I was really relaxed as it was not my major event. I will use the next day to get my head back together."
She continued: "Basically, I knew if I sat in third the Chinese girl [Jianrou Li] would come at the end. I had the speed so I moved up, but I was hit on the foot and then hit everyone else.
"It was a 50/50 call, but everyone has different opinions. There was a little gap, and I knew I had more speed at that point.
"I used my instinct and went for it. Now I am regretting it."
Replays suggest that the Livingston-born skater collided with Fontana early in the first lap after trying to correct a failed attempt to overtake her opponent which caused both to slide to the ice, taking down Park in the process.
Despite Wednesday's disappointment, Christie's hopes of medal success are still alive with her favoured 1000m and 1500m events to follow.
© Copyright IBTimes 2023. All rights reserved.