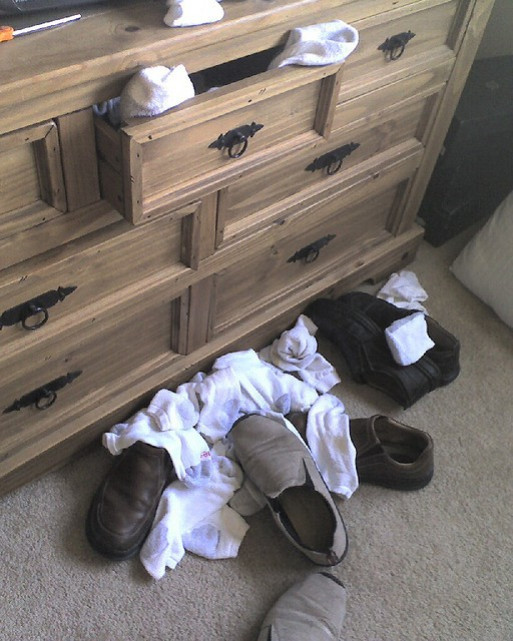 The sock drawer is the most popular place for people in Britain to hide their valuables, with 13 percent saying this was their secret hiding place for their most cherished possessions.
Research by insurance company Confused.com found that 37 percent of Britons keep their valuables in one of four spots around the house: the sock drawer, on top of the wardrobe, under the bed, or under the sink.
The company said that people needed to get more creative about stowing away their valuables. A fifth of householders - 21 percent - have been victims of burglary.
Over half of homeowners surveyed said that they kept their valuables in vulnerable places despite knowing they were the obvious spots for thieves to check.
Gareth Lane, head of home insurance at Confused.com, said: "This research is proof that we need to get smarter when protecting our possessions. Taking steps to prevent a burglary - from locking windows and doors to storing valuables in a secure safe - are just a few simple things that you can do to ensure that your home and its contents stay as safe as possible.
"The harder we make it for the thief to gain entry, the better. However, on the unfortunate occasion where they do gain entrance we need to think really carefully on how we can prevent them from locating our favourite possessions."
Buy a dog
The research showed that people took additional steps to safeguard their homes: half installed a burglar alarm and one in four put extra locks on their windows. Fifteen percent bought a dog.
Homeowners were also warned about keeping sheds and garages under lock and key.
Insurer Aviva found that thefts from gardens and outbuildings increased by 20 percent when the clocks move to British Summer Time. Power tools were the primary target.
Jonathan Cracknell, household underwriting manager at Aviva, said: "Lighter evenings also mean all your expensive power tools, bikes and children's toys are more visible to passing criminals.
"So after a day in the garden or doing a bit of DIY ensure everything is secured away inside your home, shed or garage. Items such as ladders and wheelie bins are perfect for burglars to use to get into your home, so keep them out of reach and out of sight if you can."