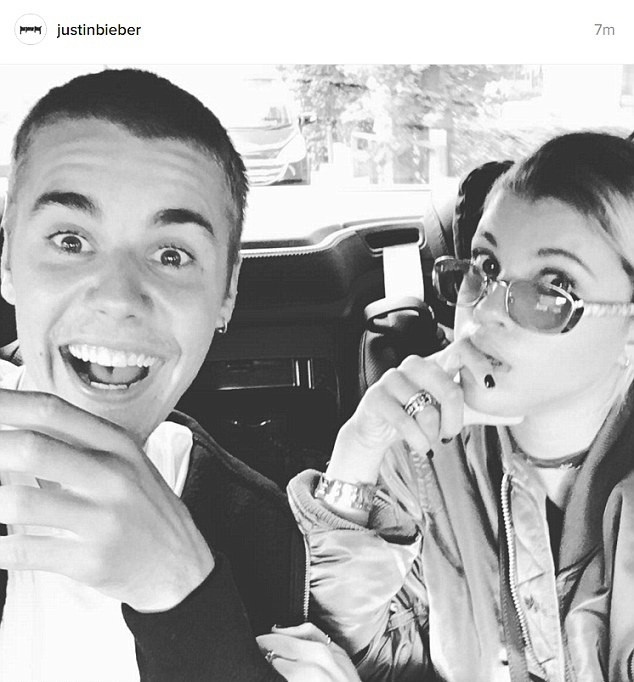 Sofia Richie has broken her silence on her rumoured romance with pop star Justin Bieber. Just days after her father Lionel Richie appeared to confirm their relationship, the aspiring model has finally addressed the mounting dating rumours in a candid interview with Billboard magazine.
Conducted just days before her 18th birthday on 24 August, a snippet of the interview features Sofia gushing about her bond with the Cold Water hitmaker. The model reveals: "We have a special relationship. Justin is very easy to talk to, and that's hard to find with people in Los Angeles."
Since they were first spotted together in August, Sofia has been inundated with offensive comments from Bieber fans who are upset with his new girlfriend. The backlash prompted Bieber, 22, to delete his Instagram account.
Addressing the controversy, Sofia told the publication: "I remember the paparazzi and the s**t people would say to Nicole, and she wouldn't respond. I'm going to be real with you: It. Doesn't. Bother. Me. As long as I'm happy."
Before Bieber made his Instagram private, the Canadian singer traded harsh words with his ex-girlfriend Selena Gomez who commented: "If you can't handle the hate then stop posting pictures of your girlfriend lol – it should be special between you two only. Don't be mad at your fans. They love you."
It was thought that Bieber and Sofia's relationship was on the rocks after he was seen partying with other women while in London for V Festival. However, the couple were soon reunited in Mexico where they enjoyed a romantic break to celebrate Sofia's birthday. Photos from the getaway showed the pair getting intimate while on a beach in Cabo San Lucas.
Sofia's comments on Bieber come not long after her father Lionel gave their love the green light. The Dancing On The Ceiling crooner told TMZ: "I'm not going there. I have strict instructions not to go there." When asked if he has given their romance a seal of approval, he replied: "Yes."
Sofia appears on the cover of Billboard's inaugural style issue alongside hip hop duo Rae Sremmurd. The issue hits newsstands on 17 September.