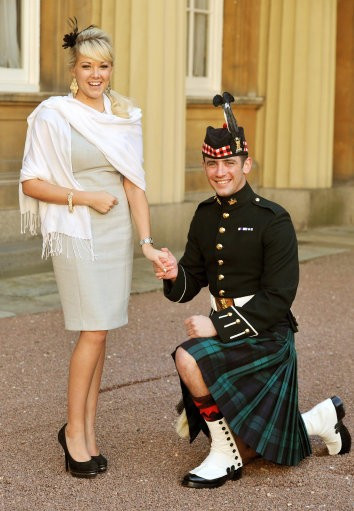 Private Bryan Johnson is in news not just for his heroic acts in Afghanistan and a honourary medal, but he grabbed the headlines for proposing his girlfriend on the grounds of the Buckingham Palace.
Johnson valiantly fought the Taliban and rescued an injured colleague when he was deployed in Afghanistan last year.
Johnson, from the 5th Battalion of the Royal Regiment of Scotland, was in Buckingham Palace to receive a gallantry medal. The young soldier went down on one knee and surprised his girlfriend Kirstie Ward, who said a 'Yes' to his question.
"I knew I was going to do it, and luckily managed to get up enough confidence. I dropped to my knee and fortunately for my sake she said Yes," the Daily Mail quoted the 24-year-old soldier as saying.
The British soldier, who was brought up in Glasgow, then presented a ring on Kirstie's finger.
"It was a real surprise. I'm shocked and excited," The newspaper quoted a happy Kirstie.
When quizzed about Johnson's bravery, the 21-year-old girlfriend shared with the Daily Mail, "he's amazing."
Earlier, the newspaper reported that Prince of Wales handed over the award to Johnson for showing selfless courage in October 2010 when he dragged an injured fellow soldier to safety. He also gave life-saving first aid and shielded the rescued soldier against attacks before they were evacuated.