One of the UK's most renowned Catholic schools encouraged child abuse and sheltered sex offenders, its former abbot has claimed.
Aidan Bellenger has accused his three predecessors of tolerating child abuse at Downside Abbey in Radstock, Somerset. He also claimed that the monastery, which adjoins the school, still harbours paedophiles.
The accusations were made in several letters sent last year to the chairman of Downside's board of governors, Father Leo Maidlow Davis.
The contents of the letters were disclosed at the Independent Inquiry Into Child Sexual Abuse on Thursday (7 November).
Among those accused by Bellenger is Father Richard Yeo, until recently Britain's most senior Benedictine monk, who was abbot at Downside from 1998 till 2006. He stood down as president of the English Benedictine Congregation in August.
Bellenger said that Yeo "attempted to protect" two former abbots, Father Richard White and Father Desmond O'Keefe, who have both been jailed for assaulting pupils and possessing child abuse images respectively.
White was sentenced to five years in prison in 2012 for gross indecency and assaulting boys in the 1980s. O'Keefe was convicted in 2004 for downloading 12,000 pornographic images of children from the internet.
In his letter to Father Davis, Bellenger wrote: "At the heart of darkness in the [Downside] community is the issue of child abuse, which was tolerated by all my predecessors as abbot."
He said he was "particularly concerned that Richard, who should have known better, attempted to protect Nicholas and Desmond when he should have been protecting their victims."
"Neither was penitent. Both were protected and indirectly encouraged by their abbots, John [Roberts], Charles [Fitzgerald-Lombard] and Richard," he added.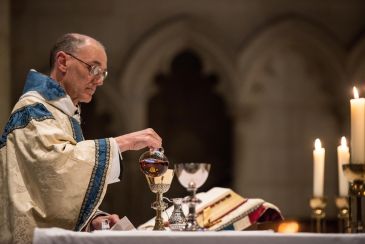 The Benedictines have been steeped in controversy for the past twenty years following a series of sex abuse scandals at their schools Ampleforth, Downside, Worth and St Benedict's in London. The Inquiry Into Child Sexual Abuse is currently investigation numerous allegations of abuse at the prestigious private schools.
This week, a former priest was found guilty of sexually abusing and beating schoolboys while he was in charge of discipline at St Benedict's. Andrew Soper, formerly known as Father Laurence, was accused of caning boys as "a method and ruse to gain sexual gratification" during the 1970s and 1980s. He will be sentenced later this month.