A new book contains bombshell allegations that priests sexually abused teenage boys at a youth seminary in the Vatican, claiming reports of abuse were stifled.
Original Sin, Italian journalist Gianluigi Nuzzi's latest book, includes the shocking claim that a man, who recently became a priest, sexually assaulted a 17-year-old boy in 2012.
The abuse reportedly took place at the Vatican's St. Pius X pre-seminary for middle- and high-schoolers, where many Catholic students are trained to become priests.
Kamil Tadeusz Jazembowski, the victim's roommate, told Nuzzi that the adult seminarian repeatedly visited their bedroom, where he had oral sex with the boy.
Jazembowski said his roommate "felt obliged to go along with it", describing the abuser as a man who exercised "a form of power and intimidation" over the students and imposed "bullying or sexual acts" on them.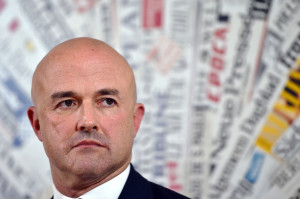 When he raised his concerns with Vatican authorities, Jazembowski says he was told to leave the residence. The book reproduces a letter written by the Vatican's Congregation for the Doctrine of the Faith to the ex-seminarian in 2014, which states that no sexual abuse of a minor had taken place and that the matter would be handed over to the Vatican's office for clergy.
"I don't blame the priests for being gay. All this is a vast hypocrisy: during the day these people are homophobic, at night they are unleashed in gay clubs," the book quotes Jazembowski as saying.
In his book, Nuzzi also claims that hidden powers in the Vatican were blocking the reforms of Pope Francis and his predecessor, Benedict XVI, aimed at preventing future abuse in the Catholic Church.
The Pope is facing mounting pressure to crack down on clergy abuse after one of his closest allies and Australia's highest-ranking Catholic, Cardinal George Pell, was charged with "historic sexual abuse offences".
In September, the Pope promised to never pardon a paedophile priest. "Those who're sentenced because of sexual abuses against minors can indeed appeal to the Pope and ask for a pardon, but I've never signed one of those, and I never will," he told the papal abuse commission, marking his first public admission of clergy abuse.
Nuzzi and another Italian journalist, Emmanuele Fittipaldi, both stood trial at a Vatican court in 2015 after they published books based on leaked documents that revealed greed, mismanagement and corruption at the top levels of the Catholic Church.
After an 8-month trial, the Vatican's criminal court declared that it had no jurisdiction to prosecute the two men.