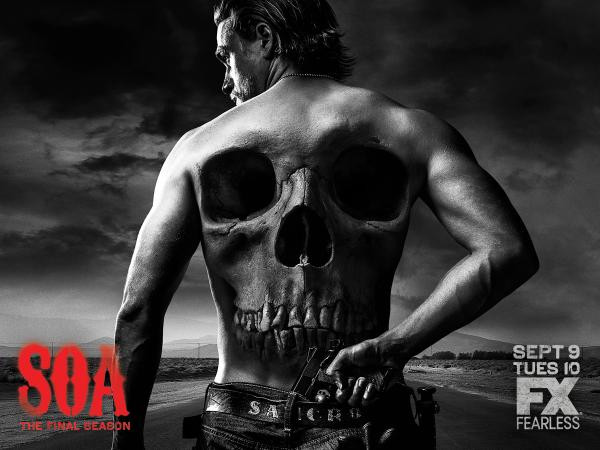 Sons of Anarchy Season 7 returns with another exciting episode tonight as fans will learn more about Jax Teller's (Charlie Hunnam) revenge saga which has already taken many innocent lives.
Meanwhile, Juice and Gemma's showdown may take an interesting turn as both were involved in Tara's murder. Both want to escape the SAMCRO president's dreaded new avatar even if it means harming each other.
According to the synopsis of episode 6 'Smoke 'Em If You Got 'Em' "Jax takes advantage of shifting alliances to protect the MC and settle a score."
Juice killed the sheriff, the only eyewitness to Tara's murder, in order to protect the real culprit Gemma.
The grandmother of two is trying everything possible to save herself from her son's wrath and has already framed the Lin triad members for an offence they did not commit triggering a violent and bloody clash between the biker gangs.
The sixth episode will introduce Glee star Lea Michele as the truck stop waitress Gertie. The SAMCRO matriarch will interact with Gertie on her way back home after her near fatal meeting with Juice.
Click here or here to watch episode 6 'Smoke 'Em If You Got 'Em', Sons of Anarchy live stream online.
Meanwhile, show creator Kurt Sutter has hinted that some big revelations are coming in FX's blockbuster biker drama which will change the equation of the series that is almost half way across its final ride.
"It's somewhat sad, but it explains his journey and why he is doing what he is doing, he's sort of on this path that begins with him having some glimmer of hope, and then when that doesn't come to fruition, he's just completely untethered and lost," Sutter told TV Line.
While fans long for the death of Gemma at the hands of her son, Sutter released some texts on his Instagram sparking rumours about the possible finale scene of the fan favourite series.
However, later he posted another picture with texts suggesting he finished writing the finale but it is not like the one of his previous post.
Sons of Anarchy Season 7 airs every Tuesday night on FX network.