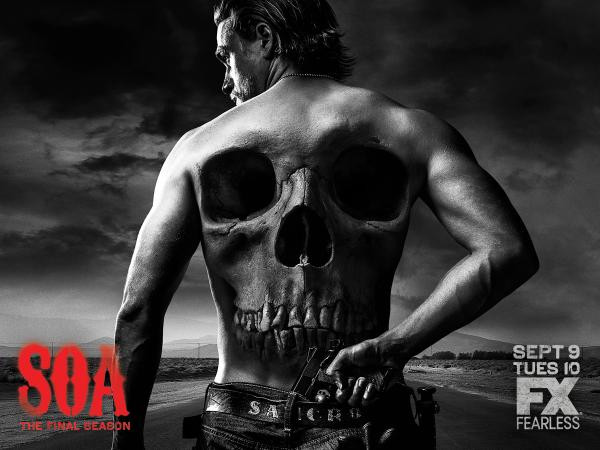 Kurt Sutter's cult classic Sons of Anarchy Season 7 has kept fans on the edge of their seats in the ending scene of episode 5, as Juice was seen pointing his gun over the SAMCRO matriarch Gemma.
The episode left fans guessing about the fate of the two characters who are the direct culprits of Tara's murder.
However, as per the promo of episode 6 Smoke 'Em If You Got 'Em, both Juice and Gemma are doing good.
Juice is still hiding from Jax Teller as he fears the SAMCRO president may not spare him for aiding in the murder of his beloved wife.
Gemma, on the other hand, will try everything possible to hide her true and brutal face from her son to escape his wrath.
Episode 6 will also introduce truck stop waitress Gertie played by Glee star Lea Michele. The Epoch Times report says Gemma will interact with Gertie on her way back home after her near fatal meeting with Juice.
Sutter, meanwhile, has hinted that Juice will have revelations about himself in the upcoming episodes which will bring a major twist in FX's blockbuster biker drama.
"It's somewhat sad, but it explains his journey and why he is doing what he is doing," Sutter told TV Line.
"He's sort of on this path that begins with him having some glimmer of hope, and then when that doesn't come to fruition, he's just completely untethered and lost."
The next episode is set to introduce another new character Sticky, the vice president of biker gang Grim Bastards, played by Malcolm-Jamal Warner.
"I can just tell you it's crazy. The last season end is crazy and this season is starting off crazy," Warner told Variety about episode 6.
The description for the episode is brief: "Jax takes advantage of shifting alliances to protect the MC and settle a score."
The next episode of SOA Season 7 will focus on the growing vulnerability of Jax's situation with Jax having initiated a war against his rivals in order to avenge his wife's murder.
Gemma is now completely at the mercy of Juice who has lost trust in the SAMCRO matriarch.