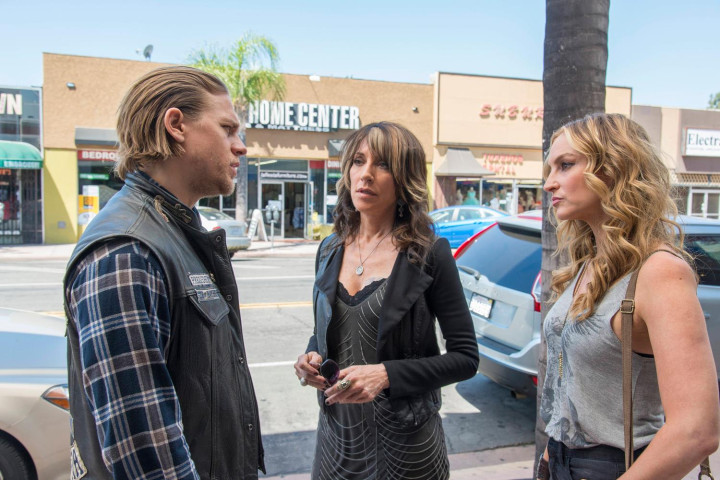 Sons of Anarchy fans may not find this as good news. Jax Teller aka Charlie Hunnam has hinted that the SAMCRO president may not kill his mother after he finds out the truth about his beloved wife Tara's death.
In an interview with the Entertainment Weekly, Hunnam teased that his character can kill anybody related to his wife's death but his mother.
"Anyone else in the world, 100 percent guaranteed he's gonna murder them in slow and brutal fashion, but it's his mother, you know. It's gonna be complicated," the lead SOA star told the website.
"I don't envy Kurt in trying to figure out the right way to approach that," he added.
Meanwhile fans of the Kurt Sutter created cult classic biker series are feeling the pinch as they expect their most hated character Gemma to die in her son's hands as soon as possible in the series.
The SAMCRO Prince of Charming is currently on a killing spree in the 'Final Ride' of the FX blockbuster series as his mother falsely implicated the Lin Triad members as the main culprits.
"The question is, does Jax ever get the whole truth? Is he supposed to get the whole truth? If he only gets part of the truth, what does that mean? We'll play with all that stuff," the Crimson Peak actor hinted at Jax's psychological situation in the series.
"I think once he gets information, as much of it as he gets, we'll see it play out in a different emotional way."
He also teased fans about his upcoming naked scenes in the biker series.
"Twice I have been completely naked on the set of Sons in season seven. I'm not going to tell you how that came about. But you will definitely be seeing my ass again," Hunnam told EW.
Earlier, show producer and director Paris Barclay had hinted that Gemma may beg forgiveness from her son for ruining his family forever.
"Even if she did it with the best of intentions, it's still beyond the pale. You know when Jax finds this out, it's not going to be pretty. After all, she can cover her tracks as long as she wants but sooner or later the chickens are going to come home to roost," Barclay told TV Guide
"And she's really going to have no place to go. I think she has to do what Gemma does, which is scramble and hope that it works out. And eventually I'm sure she has a plan to beg forgiveness and it may or may not work. May or may not work."
What do you think about the SAMCRO president killing innocents in the name of his wife's murder but leaving the real perpetrator? Will you like this ending for Sons of Anarchy Season 7 which airs every Tuesday on FX networks?
Share your views in the comment box below.