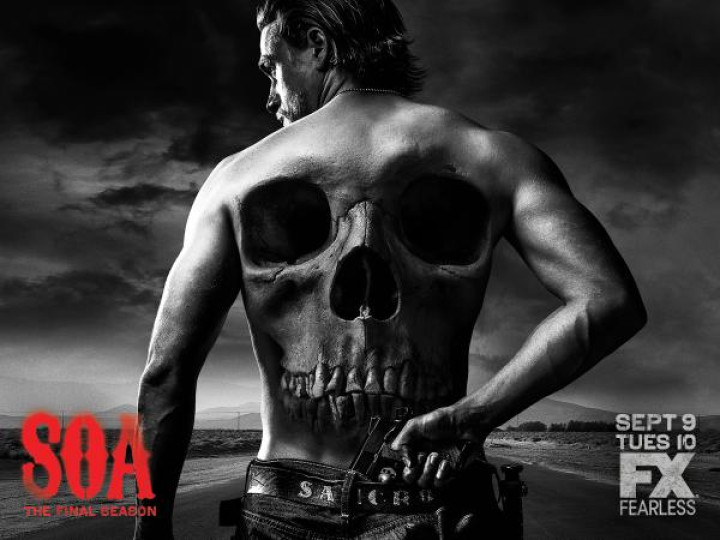 Sons of Anarchy Season 7 returns with another thrilling episode this Tuesday titled Some Strange Eruption.
The synopsis of the upcoming episode reads: "Looking for the source of a betrayal leads to violence at the Stockton Ports."
As expected in episode 4, Poor Little Lambs, the body count has just increased to another superlative level hinting at a gloomy path ahead for the SAMCRO president, who has turned into a reaper to avenge his wife Tara's brutal murder.
In the promo of Some Strange Eruption, Nero is seen arguing with Jax and accusing him of falsely framing the Lin triad members. It appears he didn't buy the SAMCRO prince's argument of Gemma seeing the Chinese leaving his house during Tara's murder.
The battle of Charming however has already begun as Lin killed innocent girls at Diosa Norte thanks to Gemma's fabrication to hide her evil deeds which bewildered her son enough to go on a killing spree and reigniting rivalry.
Meanwhile, show creator Kurt Sutter has hinted that episodes 6 and 7 will be important for the final ride of FX's cult series as Juice's fate will get revealed.
Inquisitr also suspects that a major SAMCRO member will die during the ninth or the tenth episode of the blockbuster TV series.
"We really begin to see the ramifications of Gemma's lie-not just impacting the club, but impacting Charming, impacting the community at large," Sutter told Entertainment Weekly after the episode 4 ending.
"One of the things I'm very conscious of is, as pulp and as absurd as this show can be sometimes in the violence, that it never happens in a vacuum. We always see the ramifications. That's definitely the case with Diosa."
Click here or here to watch episode 5 Some Strange Eruption, Sons of Anarchy live stream online.