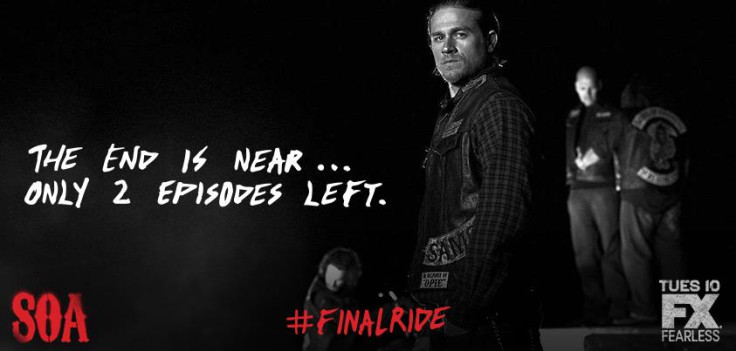 Sons of Anarchy season 7 will return on Tuesday night after a 15-day break and things are not looking any better in Charming.
With only two episodes left to end the final ride, Kurt Sutter's cult classic has reached the climax where Jax Teller will meet his mother Gemma to seek answers and justice.
Click here or here to watch SOA episode 12 'Red Rose' live stream online on FX networks.
After learning the real facts from his son Abel about his wife Tara's murder, Jax is hurt and soul searching.
The mayhems he caused in the name of his wife's murder have proved futile and now he needs to take the ultimate decision of his life.
The Samcro president has killed numerous innocents in the name of revenge and reached too far to return.
Meanwhile Sutter teased that episode 12 'Red Rose' is the best of the season.
In his post, he hailed the performances by the cast which has made fans nervous about the outcomes of the penultimate episode while many expect Gemma to get killed by her own son.
Jimmy Smits, who plays Nero, has told Yahoo that Jax Teller will have to take the difficult decision between his family and his club.
"We should fight for the possibility that somehow you can walk away from this. For Jax Teller, you can figure a way out of this mayhem. The club can function. But your family is of the utmost importance. That's something that's part of the construct of the show, right? That family's everything," Smits told Yahoo News.
Nero, meanwhile, suggests the Samcro president to leave everything behind and fulfil Tara's dream of leaving the club and Charming to provide for a safe haven to his children.
Sons of Anarchy Season 7 episode 12 'Red Rose' airs on Tuesday night on FX networks.