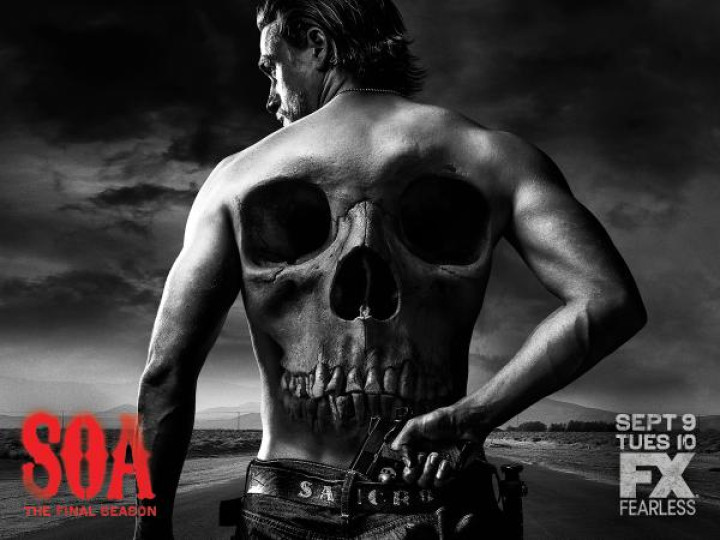 Sons of Anarchy season 7 is getting darker as fans have witnessed countless deaths in the last three episodes.
Jax Teller's journey of vengeance appears all red as the SAMCRO president is just not happy after he shoved a kitchen fork though the skull of an innocent member of the a Lin Triad gang.
In the promo of episode 4, Jax (Charlie Hunnam) tells his mother Gemma 'Juice is around' and the horror on the SAMCRO matriarch's face was vivid and clear as her son was getting closer to her dark truth.
The scene also indicates that the fate of both Juice and Gemma will be revealed soon in the final season.
Many fans suspect that the upcoming episode may turn fatal for Unser for using his name to let Juice check into a hotel and hide from the wrath of Jax.
The Examiner reports that both Juice and Unser may become the 'poor lambs' in the fourth episode.
The official synopsis of the upcoming episode reads: "A past effort to help one ally leads to trouble with another."
During the season premiere of FX's blockbuster biker's drama, Gemma convinces her son and other club members that the Chinese have killed Tara.
This has led the SAMCRO boys down a gruesome and dark path, eliminating each and every threat on their road to revenge.
Kurt Sutter's cult drama will enter a crucial part in Episode 4, which is titled as 'Poor Little Lambs' and the intensity of the series is expected to reach its peak as the war has unfolded.
In episode 3 'Playing with the Monsters' the SAMCRO president fakes an alliance with Chester and the gang to get hold of the weapons stolen by the Mayans.
Once he succeeds in his plan, the SAMCRO boys shoot them all, wiping out every evidence against them.
It will be interesting to watch who bites the dust in episode 4 'Poor Little lambs' of FX's smash hit series.
Sons of Anarchy season 7 airs every Tuesday night on FX network.