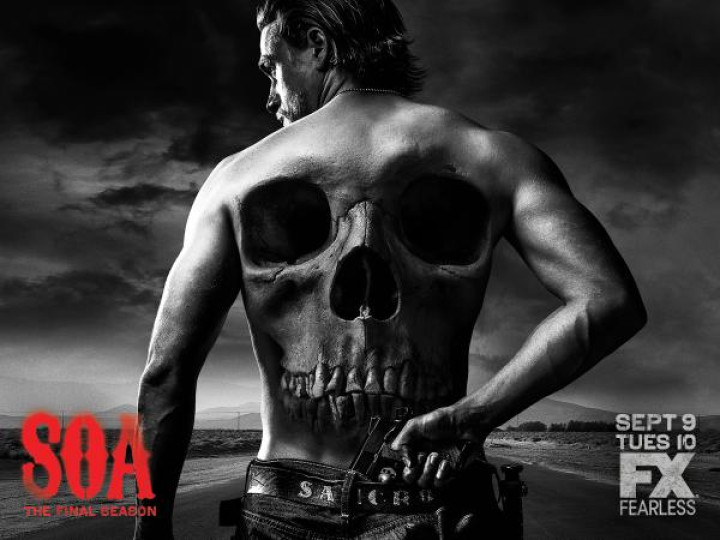 After seven long years of violence, sex and tender emotions, Sons of Anarchy ended its final ride on an emotional high.
The question that haunted most fans, whether Jax Teller lives or dies in the finale was finally answered as the series finale scene was nothing less than poetic justice, for Jax and his sons Abel and Thomas.
Show creator Kurt Sutter's Hamlet-inspired series has had the most fitting finale as each scene of the emotionally driven finale was perfectly picturised.
Sutter's brilliance in story telling was captured in every frame of the end episode of SOA.
In the pre-finale, the SMCRO prince took the most difficult decision of his life by killing mother Gemma and bring justice to his murdered wife Tara.
In Papa's Goods, fans saw the softer side of Charlie Hunnam's character when he paid a last visit to Tara and Opie's graves before starting his Mr. Mayhem journey.
He also spends some quality time with his boys and gathers some of his prized possessions before leaving the house (for ever).
The SAMCRO president's life was all about reviving the club that was founded by his late father John Teller.
He tries his best to transform the motorcycle club into a legitimate business, however, his father's legacy had already lost its way and Jax had gone too far towards darkness to return, save and revive his beloved club.
Over time, he became more like his stepfather Clay, who held the vicious intention of ruling the club and plotted to kill John Teller along with Gemma. However, John sacrificed his life for the club's betterment and knowingly crashed his bike into a truck.
Jax, now knows everything and did not want to pass on the same legacy to his children Abel and Thomas and wanted them to stay away from the bloodshed and mayhem of Charming.
But he knew there is no return for him from the dark world of murder, bloodshed and revenge.
The only solution for him was to follow his father's way but before meeting Mr Mayhem, he meets Nero and tells him that he is be leaving all his assets including his children with Wendy.
"I did what I know how to do. What Gemma knew had to be done. The lies caught up to all of us, man. I tried to hide from it... run from it. This is who I am. I can't change. I need my boys to leave this place so they don't become what I became," Jax tells Nero and bids a tearful goodbye to his sons and a concerned Wendy and hops on his father John's motorcycle.
He moves on to do some more killing and arrives at the club to remove his SAMCRO president's patch and Tig was unanimously selected as the VP.
The scene grows more intense when Jax puts his gun on the table and says "I'm ready", but SOA brothers can never kill their president and instead of shooting him they give him a way to escape.
Jax, then heads towards the death spot of his father while making his final apology in a monologue.
"Fear and guilt crippled me," he says while riding John's bike.
"Good outlaw and good father can't settle inside the same man. I'm sorry, J.T. It was too late for me. I was already inside it. And Gemma, she had plans. But it's not too late for my boys. I promise they will never know this life of chaos. I know who you are now and what you did. I love you, dad."
Wow! What an excellent series finale! #JaxTeller was such an epic character. I smell #Emmy #GoldenGlobe #SOAFinale pic.twitter.com/IOLPfY9MGo

— Supa Walkie (@YoWalkie) December 10, 2014
During his final ride, Jax attracts a number of police patrolling vans and then he follows his father's footsteps and smiles and raises his hands before crashing his bike head-on into a truck.