Key Features:
4.3in screen (720 x 1280)
137g, 9.5mm
16GB storage (with microSD card slot)
Android 4.3
Waterproof and Dustproof
Price as Reviewed: £399
---
Sony Xperia Z1 Compact
---
Sony had a great 2013. It launched the Xperia Z, Xperia Z1, Xperia Z Ultra and the Xperia Tablet Z with most (if not all) being well received and selling in reasonable numbers.
The challenge now for Sony is to use that momentum to claw back some of the mobile phone market share it has lost to Samsung, Apple, LG, Huawei, ZTE and others.
To that end, it started 2014 with a bang (in relative smartphone industry terms at least) by launching the Xperia Z1 Compact at CES in Las Vegas earlier this month. A Sony spokesperson promised me that the Compact would deliver all the power, performance and features of the flagship Z1 but in a smaller and lighter body.
Was he right?
---
Xperia Z1 Compact – Design
---
Sony's smartphones and tablets have been using what it calls the OmniBalance design language for a while now and the Z1 Compact is no different. This means the phone is a shrunken version of the Z1 – which isn't a bad thing.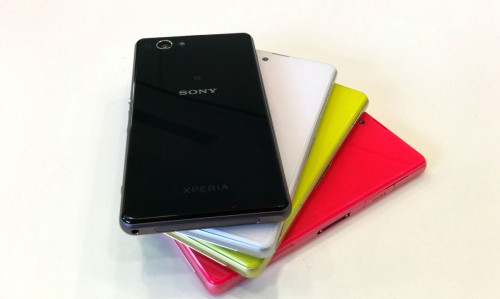 The Z1 Compact doesn't scrimp on materials either, using glass and aluminium in its construction. It means the phone doesn't feel flimsy when you hold it, but it also means its bulkier than you would have thought for a 'compact phone'.
It is both heavier (137g) and thicker (9.5mm) than the larger Nexus 5 (130g, 8.5mm) but that isn't necessarily a bad thing, as it feels good when holding it in one hand, something a lot of phones don't achieve these days.
Sony believe customers will want a water and dust proof phone more than sleek lines, so you get a series of ports (SIM card, microSD and microUSB) covered with flaps on the left-hand-edge.
I would have gone for sleek lines myself as the port covers are fiddly and while the only one you will use regularly is the micro USB charging port, it is a pain I could have done without when trying to plug my phone in at night.
The now almost-iconic, oversized power button which was seen on Sony's 2013 Xperia products is located on the right-hand edge and while it looks good, it feels a little....squidgy, which is a pity.
My review unit was the white version of the Z1 Compact, but Sony is making the handset available in pink and lime (and black) options too – following the route paved by Nokia in the last couple of years, and copied by Apple with the iPhone 5c.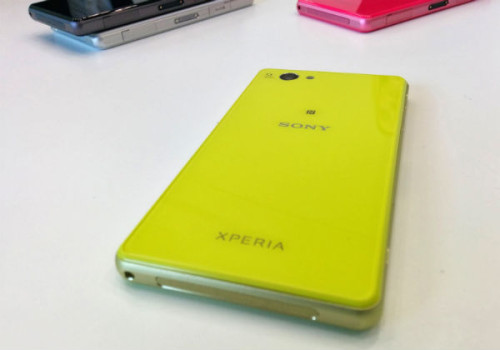 Both colourful models do look good, though Sony's lime is much closer to the yellow of Nokia's Lumia phones than anything else.
---
Xperia Z1 Compact: Screen
---
The 4.3in screen on the Xperia Z1 may not have the super high resolution of phones like the Nexus 5 or the Xperia Z1, but with a pixel density of 342 pixels per inch, it is still sharper than Apple's iPhone 5s Retina display (326ppi).
Any problems created by the lower resolution are helped with Sony's display technologies – Triluminos Display, X-Reality and Bravia –which help to create a screen which looks sharp and bright and does a decent job of recreating natural colours.
At 4.3in, calling this a 'compact' phone is a stretch, but with the majority of flagship phones these days hitting the 5in mark, it's nice to use a phone which is very easy to use one-handed.
---
Xperia Z1 Compact: Software
---
Sony hasn't managed to get the latest version of Android on the Xperia Z1 Compact, though Android 4.4 (KitKat) will arrive at some point the company says.
What you get therefore is Android 4.3 (Jelly Bean) but with a heavy sprinkling of Sony's own proprietary skin on top.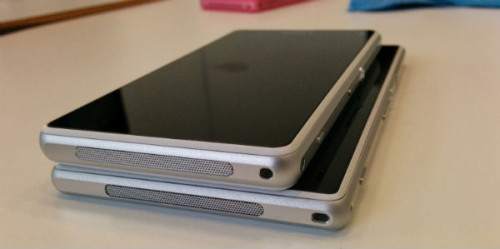 This means tweaks to the lock screen, widgets and the app drawer as well as getting Sony's own film, music and PlayStation store apps pre-installed.
While it's not the most intrusive of software skins, with a little tinkering you can get rid of most of the rubbish and get what is relatively close to a regular Android experience.
---
Xperia Z1 Compact: Hardware
---
Sony's boast that there is no compromise in this compact phone is backed up by the hardware inside. A powerful quad-core Qualcomm chip paired with 2GB of RAM keep everything running very smoothly (3D gaming, HD video streaming etc) and anything your full-size Z1 could do, the Z1 Compact will match.
The phone features the usual array of wireless connectivity (Wi-Fi N, Bluetooth 4.0 and NFC) with the company's OneTouch system promising to help easily share your music or photos with compatible Sony speakers or TVs.
The 2,300mAh battery in the phone may not sound a lot, but combined with the lower resolution display and Sony's Stamina Mode it produces the best battery life on any smartphone I have used. I managed almost two full days of use while using the phone extensively and at the weekend I didn't have to charge it at all.
---
Xperia Z1 Compact: Camera
---
Another major selling point for this phone is its camera. Utilising Sony's in-house camera technology the company says this is the "world's best camera in a water-resistant smartphone."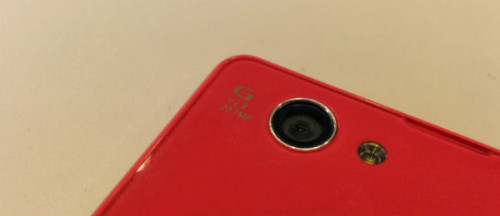 Sony has created a specially-built 20.7 megapixel sensor paired with a bright F2.0 lens for the Z1 Compact, which makes for great looking images in almost all lighting conditions. It can't match the Lumia 1020 for sheer level of detail, but Sony's Intelligent Auto+ mode is great for beginners and the fun shooting modes - including a brilliant augmented reality one - are a nice addition.
The best thing about the camera though is the dedicated two-stage shutter button, something most smartphones these days don't have, preferring to only use an on-screen shutter button.
---
Xperia Z1 Compact: Value and Verdict
---
The Xperia Z1 Compact lives up to Sony's claims of putting the full feature set and performance of its flagship smartphone in a smaller phone.
The Xperia Z1 is a supremely well-built phone with premium materials adding to the sense that you are not getting a second-rate phone just because you care buying the 'mini' version.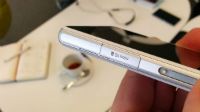 The colourful options look great and with a great camera, good screen and powerful processor, the Z1 Compact has all the elements to make it a sure-fire winner.
Except for its £449 price tag.
While I realise that the Z1 Compact should be compared to other flagship smartphones like the HTC One, Samsung Galaxy S4 and full-sized Xpera Z1 – all of which are more expensive – I feel Sony has missed a trick here.
Price it at £350 and you not only severely undercut the competition at the high end, but you get those looking at more budget models like the Nexus 5 and Moto X too.
The phone is available for free on 24-month contracts starting at £27-a-month which is not at the top end of contracts, but again the Nexus 5 is available free on £21-a-month deals while the Moto X can be had for £25-a-month.
It's a case of so-near-and-yet-so-far for Sony's Xperia Z1 Compact.
---
Scores:
---
Screen 8/10 – A great size for one-handed use and Sony's technology overcomes relatively low resolution
Camera 9/10 – As good as the camera on the Xperia Z1 with good all-round performance including Full HD video capture
Software 8/10 – Once youget rid of a lot of Sony's clutter, the system works well and is nice and smooth
Design 9/10 – Premium materials and good execution let down by a poor power button and fiddly flaps
Build quality 10/10 – Excellent, with not corners cut by Sony with its Compact
Overall 9/10 – So near and yet so far, a great smartphone but with too high a price.
The Good
Class leading battery life
Great design with nice colour options
Powerful processor
Great camera for a compact phone
The Bad
Expensive
Squidgy power button
Fiddly ports