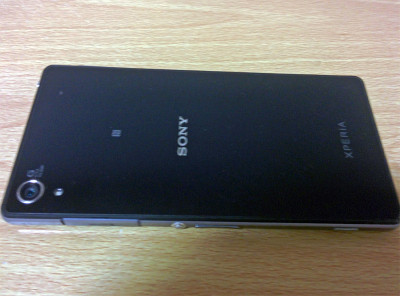 Photos and specs of what is expected to be Sony's flagship smartphone for 2014 have been leaked online showing the Xperia Z2 (codenamed Sirius) to be a thinner version of last year's Xperia Z1.
Posted on the XDA Developers Forum, the images show a Sony-branded handset featuring a 5.2in display, a 20.7 megapixel camera, running Android 4.3 (Jelly Bean) and features a new user interface.
The back of the phone is made from glass, with a metal frame and a speaker mounted at the top of the phone that lights up in red when it picks up sounds. The pictures show a smartphone design that seems to follow that of the Xperia Z1 which was launched last September.
According to the poster iRimas, the handset is thinner than the Xperia Z1 and the screen is "much better". The camera app comes with an "image stabiliser" option as well as some new themes and widgets.
The prototype bears the serial number D6603, which was recently spotted in the AnTuTu benchmark database, scoring 32996 points, according to XperiaGuide.
The Sony Xperia Z1 scored 32984 points in this benchmarking test and is currently ranked in fourth place out of all the benchmarks on AnTuTu, with the highest ranked phone of all time, the Xiaomi MI3, scored a total of 36188 points.
On 7 January, another well-known soource of smartphone leaks - evleaks - posted the specs for the Sirius on Twitter, claiming that the new Sony handset would feature a 5.2in display and run on the MSM8974AD SoC chip. The handset is expected to debut at Mobile World Congress (MWC) at the end of February.
Sony Sirius (2014 flagship) tipped for MWC debut: 5.2-inch display, MSM8974AB SoC, and a home on Verizon in the US.

— @evleaks (@evleaks) January 7, 2014
A screenshot iRimas posted with internal information about the phone lists the exact same chip, so it seems highly likely that this prototype is the Sony Xperia Z2.
Sony first launched the Xperia Z in January 2013 at CES, followed by the Xperia Z1 at IFA just eight months later. The Japanese phone manufacturer has been criticised by some for releasing the two phones so close together, as its rivals tend to stick to releasing one flagship model a year.
It's long been rumoured that Sony is expected to take two high-end products to MWC, possibly an Xperia Z1 tablet, and some sort of handset that is an improvement on the Xperia Z1, so the Sirius could be it.