Key Features
10.1in Full HD screen (1,920x1,200)
Dust and water proof
6.4mm thick; 426g
Quad-core Snapdragon 801 chip
Price as Reviewed: £399
Sony Xperia Z2 Tablet Review
The sequel to Sony's Tablet Z is the slimmest and lightest 'full-size' tablet to date, going beyond the previous benchmark set by the iPad Air.
As the name suggests, the Xperia Z2 Tablet is an evolved version of its Tablet Z predecessor rather than a radical rethink of the tablet device but it has built on solid foundations.
An improved processor and updated operating system means it is powerful enough to handle anything thrown at it, while other minor adjustments like wet-finger tracking technology show that Sony has listened to feedback.
---
Lighter than Air design
---
Billing the Z2 Tablet as "the world's slimmest and lightest waterproof tablet", Sony has managed to shave 0.5mm from the width and 59g from the weight off the already slim and lightweight Tablet Z. Yet despite its slender frame, the Z2 Tablet still feels sturdy and robust thanks to its aluminium skeleton frame.
Its weight means it is easy to hold with one hand, while its smooth, almost leather-like backing means it doesn't slip easily, even when wet.
Despite having a display 0.4in larger than the iPad Air, the Z2 Tablet still manages to be 40g lighter and over 1mm thinner than its Apple counterpart.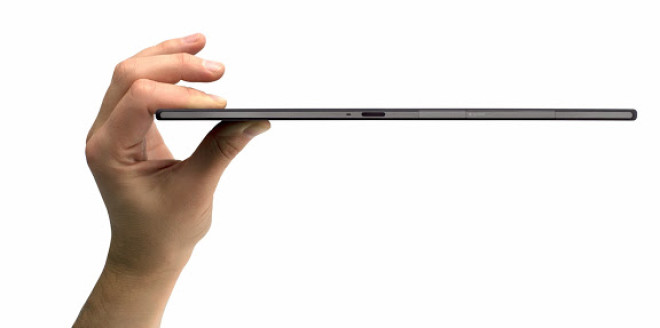 ---
Waterproof and dust-resistant
---
In keeping with the rest of Sony's Xperia Z range, the Z2 Tablet can be kept underwater at a depth of up to 1.5 metres for 30 minutes without risk of damage. Its plastic port covers also keep out dust.
Unlike the rest of the Xperia Z range, however, the Z2 Tablet can actually be operated when it is submerged in water. Even a splash of rain in the past would have been enough to make the touchscreen on Xperia Z's completely unusable, but Sony's new wet finger-tracking technology has eliminated this issue.
While some may see this as a gimmick, others will relish the chance to be able to watch films in the bath or browse the news on the beach without fear of breaking their beloved gadget.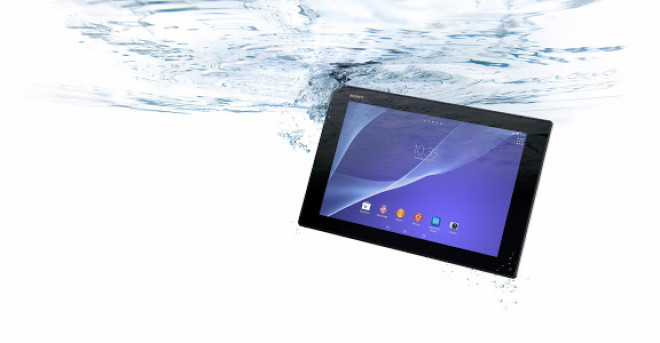 ---
Noise cancelling technology
---
Sony boasts that the Xperia Z2 Tablet is the first ever tablet to come with integrated digital noise cancelling technology, however this only works if you have the right headphones to go with it.
By itself the tablet's sound is not exceptional, however speakers on either side of the screen are located in such a way that it is hard to block the sound when you are holding it.
---
Screen
---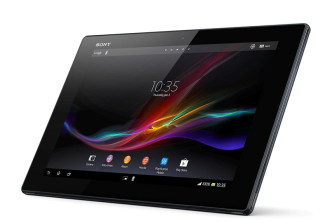 On first glance the screen's colour depth and gradation is very impressive. Utilising a Triluminous display with Live Colour LED - the same found in itss Bravia TV range - the colours on the screen remain deep and intense even when viewed from an angle.
On closer inspection, however, its 1920 x 1200 pixel resolution means that reading small text is not as easy on the Xperia Z2 Tablet as it is on rival devices like the Samsung Galaxy Tab Pro 10.1 (2560 x 1600) or the iPad Air (2048 x 1536).
---
Battery life and camera
---
As tablet cameras go, the Xperia Z2 Tablet is up there with the best. With an 8-megapixel rear-facing camera, it is capable of taking decent shots in most lighting conditions, while the 2.2-megapixel front-facing camera is more than adequate for video calling.
Its integrated augmented reality apps that allow you to place dinosaurs and fauna into any picture are fun but aren't really worth returning to once over the initial quirk.
In a week's worth of use, the Xperia Z2 Tablet only needed to be recharged once. Although not in constant use, the device was capable of showing a couple of films, giving a few hours of gameplay and several hours of internet browsing on a single charge.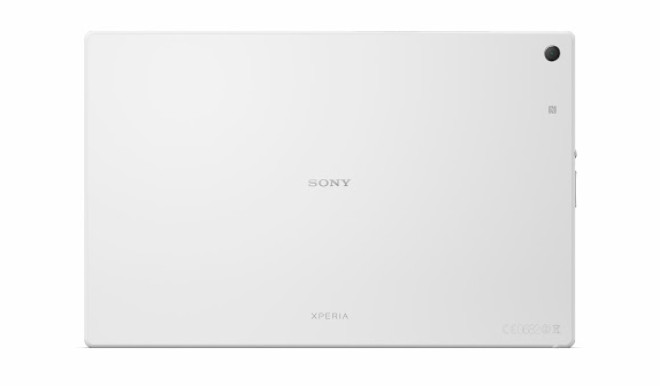 ---
Cost and conclusion
---
The Sony Xperia Z2 Tablet may be light as a feather but its a heavyweight device when pitted against other tablets on the market.
Its biggest criticism is probably that it relies on the Android operating system, which still lags behind Apple's iOS for the iPad. Android developers are still yet to fully embrace the potential of a larger screened device and until this is remedies, all Android tablets will suffer as a result.
The fact it is not a drastic departure from its predecessor means it is also unlikely to coax owners of the Tablet Z away from their old devices.
Only the iPad Air comes close to it in terms of specs, though even Apple's best offering isn't able to rival the Z2's processor, battery, camera, slimness or weight. This is without even mentioning the tablet's waterproof and dust-resistant capabilities, which admittedly most may see as just an added bonus.
Sony's latest tablet stands above rival Android devices like Samsung's Galaxy Tab Pro 10.1 and is as close to perfect as an Android tablet currently comes. Only the iPad Air stands in its way when it comes to the crown for best full-size tablet, but even against Apple's best offering the Xperia Z2 Tablet's overall performance and ability wins out.
Scores:
Screen: 9/10
Design: 10/10
Operating System: 8/10
Build Quality: 10/10
Value: 9/10
Overall: 9/10
The Good
Great design and build quality
Unrivalled in terms of size and weight
Impressive battery life and camera
Decent performance (even under water)
The Bad
Lack of third-party Android apps
Not the best pixel density on the market