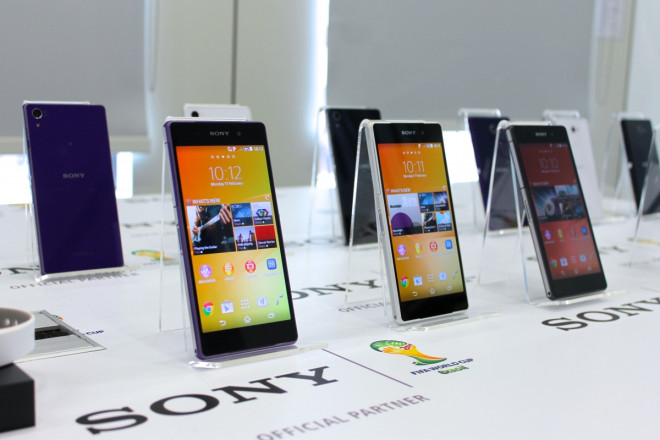 Announced at Mobile World Congress in Barcelona, the Xperia Z2 is Sony's latest flagship Android smartphone. Despite being slimmer than its Z1 predecessor, the Sony is still significantly larger than Apple's own flagship, the iPhone 5s - but the Sony's screen technology, camera and 4K video recording might be enough to make you think twice before opting for the Apple.
---
Hardware
---
Although considerably larger than the iPhone 5s, the Xperia Z2's bulk is partly due to its waterproof and dustproof credentials, something the iPhone 5s lacks. But where waterproofing adds peace-of-mind with one hand, it takes away convenience with the other, as the Z2's ports are covered by tethered flaps to keep water out.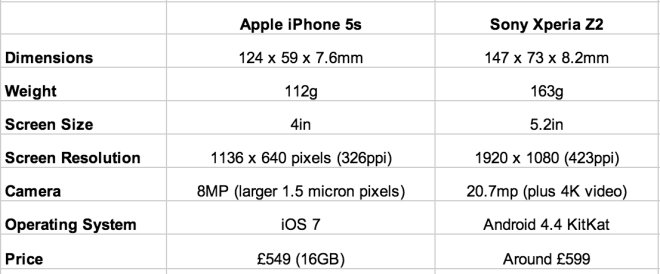 The headphone jack has a special coating to forgo being covered, but the remaining flaps are still awkward to use.
Where last year's Z1 was slightly too bulky and heavy to be held comfortably in one hand, the Z2 is a marked improvement, but with such a large screen the phone is never going to be as ergonomic as the iPhone - at least when used with one hand; if it's portability you need, the iPhone wins.
---
Screen
---
The Z1's 5.2in screen has a resolution of 1920 x 1080, giving it a pixel density of 423 per inch; this compares to the iPhone 5s, which has a 4in screen with a resolution of 1136 x 640 and a pixel density of 326 per inch.
While it might sound like the Sony has the better screen, in reality the two devices have similarly good screens - deciding between the two is more a case of screen size preference over resolution and pixel density.
---
Performance
---
The Sony Xperia Z2 is powered by a 2.3GHz, quad-core processor with 3GB of RAM, which as far as Android devices go, is to be considered top-of-the-range. But comparing this to the iPhone 5s and its 64-bit A7 processor is all but impossible, given Apple doesn't reveal the iPhone's clock speed or amount of RAM.
Safe to say though, the smartphone industry is at a stage now where consumer interest has turned away from specifications and towards camera quality and hardware design, as once you get to devices like the Z2, iPhone and high-end Samsung Galaxies, differences in overall performance are all but impossible to spot.
The only meaningful difference is that of storage. Where the Sony - and Samsung Galaxy S4, for that matter - have microSD card slots to boost storage by up to 64GB, the iPhone 5S does not, limiting it to 16GB, 32GB or 64GB depending on the model you buy; it's also disappointing to see that Apple is yet to introduce a 128GB version of the iPhone.
---
Software
---
Perhaps the most important aspect of a modern smartphone, the operating system is where the battle between two devices is won or lost. Sony has made a few changes to Android for the Xperia Z, but nothing as extreme as Huawei's efforts with the P6, or even Samsung's TouchWiz.
Sony has installed its own wallpapers and lock screen, adjusted the application drawer and bundled its own apps and widgets - nothing too obtrusive or anything which would make the phone unstable.
In the other corner we have Apple's iOS 7, an all-new user interface which does away with the skeuomorphic design (torn pages in Calendar, green felt in Games Center) of all previous iOSs, replacing it with a clean, flat and colourful UI. It'll take Apple fans some getting used to, but the changes are logical and point the company in a new design direction which we expect to see spread across its product portfolio over the coming year.
Is one operating system better than the other? Impossible to say, but if there's a noticeable different it is that Android offers a more open and customisable experience, while iOS is more restrictive but with this comes a simpler, more intuitive system.
---
Camera
---
Sony has given the Xperia Z2 the same 20.7-megapixel camera as the five-month-old Z1, but has added the ability to shoot video in 4K (also known as Ultra HD). The iPhone's 8-megapixel camera can't do 4K - instead it is limited to 1080p Full HD - but until consumers are buying 4K televisions on a larger scale than they are today, the iPhone is only at a minor disadvantage for now.
Both phones can record slow-motion video at 120 frames per second, and both offer a very similar interface for controlling how the feature is used. In both cases, slow-motion footage is capped in quality to 720p HD.
---
Conclusion
---
Each of these two smartphones are at the very top of their respective game - we have the best of mid-sized iOS, and the best of large Android (leaving extra large for 'phablets').
Choosing one over the other isn't easy, and the decision will come down to personal preference. Sony is yet to announce a price for the Z2, but has said it will be close to the £600 Z1, putting it somewhere between the 16GB and 32GB versions of the iPhone 5s.
Deciding between the Xperia Z2 and Samsung Galaxy S5 will be when things get more interesting.