Ever since Apple ditched smaller-sized handsets when it introduced the iPhone 6, Sony has been unrivaled when it comes to the one-handed smartphone. Despite Steve Jobs' famous quip "no one's going to buy a big phone", every major smartphone manufacturer has followed a trend in recent years of producing bigger devices. Every major manufacturer, that is, except Sony.
Key features
23 megapixel camera
4K video recording
Waterproof design
Pirce as reviewed: £429
4.6in Screen
The Japanese giant offers three versions of its latest flagship smartphone: The Xperia Z5, the Xperia Z5 Premium, and the Xperia Z5 Compact.
Sony skipped a model when rolling out the mini version of its flagship Z4 smartphone, so the Z5 Compact actually follows on from the Z3 Compact. The Z5 features an improved camera, an updated design and a new fingerprint sensor – but is all this enough to buck the trend and tempt people back to a smaller device?
Sony Xperia Z5 Compact: Design
Sony has kept with its "OmniBalance" design language that it has used throughout its range of Xperia smartphones and tablets. There are several subtle differences from its Compact predecessors, including a new frosted glass back and a lipped edge on both sides that helps protect it from scratches.
The Xperia Z5 Compact is thicker than its larger counterpart, which has led to some unfair comparisons to it being a "brick". However, it adds to a sense of sturdiness that Sony has rightfully gained a reputation for in recent years. Like the rest of the Xperia family, the Z5 Compact is waterproof, though it now comes without the fiddly flaps that were griped about by owners of the older devices.
The location of the fingerprint scanner halfway up the right side of the device is convenient and means that the size of the screen does not need to be compromised by additional hardware cluttering up the front.
Sony Xperis Z5 Compact: Screen
Despite the smaller size of the smartphone, Sony has still managed to pack in a 4.6in screen - only 0.1in smaller than the much larger iPhone 6.
The Z5 Compact still hasn't made the leap to a Full HD display, though on a screen this size it seems unnecessary. A minor flaw, common with other Sony screens, is that under certain light conditions and with the screen tilted to a certain angle, it is possible to make out the touch-sensitive panel just below the glass.
Sony Xperia Z5 Compact: Camera
Sony has pioneered in the smartphone camera field, largely thanks to the Japanese tech giant's in-house camera technology. Its 23 megapixel (MP) sensor is larger than the Z3 Compact's, which clocked in at 20.7MP. In the review of the Z3 Compact last year, IBTimes UK noted "there really isn't much need to cram in any megapixels beyond this point", though Sony obviously thought differently.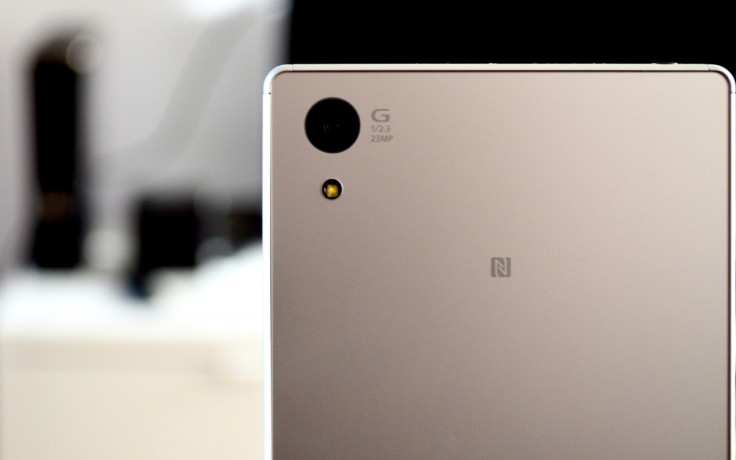 The Z5's outstanding optics and image sensor are almost too good, as loading the camera and navigating around its functions can prove slow. This is the fault of its underlying software, though a better compromise with the hardware could probably be found.
Sony's flagship phones have featured 4K capabilities as standard in since the Xperia Z3, though previous models have experienced problems with overheating. This has led Sony to include a warning when the camera app is first opened, stating that the camera may shut down. In over a week of testing, using both the 4K video and augmented reality functions, the camera didn't shut down once.
Sony Xperia Z5 Compact: Battery, hardware and software
This is another area where the Z5 Compact really shines. Sony has fitted in the same Qualcomm Snapdragon 810 processor as it's Z5 counterparts, as well as 2GB of RAM, 32GB of storage and a massive 200GB microSD storage.
The previous generation of Sony Xperia Z smartphones were widely criticised for their tendency to overheat, which could cause power-intensive apps to shut down. While warnings still pop up before using features like AR and 4K with the camera, the device didn't ever shut down during prolonged periods of 4K filming.

The fingerprint sensor has already been mentioned for its convenient placement (for those who are right-handed), and it is an excellent addition for security-conscious users. There was a slight issue in that it usually failed to unlock the device on the first attempt.
Finally, Sony is rightly considered one of the best in the business when it comes to smartphone battery life and the Z1 Compact doesn't disappoint. It easily meets the two-day battery life that Sony officially boasts of, and can even go a day or two more with light use.
Sony Xperia Z5 Compact: Price and conclusion
The Sony Xperia Z5 Compact is the only high-end contender for anyone looking for a smaller device, but to simply call the Sony Xperia Z5 Compact the best small phone on the market is to not give it due credit. Despite its size, it is able to pack in the same features and performance as the rest of the Z5 family, all of which offer worthy competition to the heavyweights of the iPhone 6s and the Samsung Galaxy S6.
At £429 it's £50-£100 cheaper than other flagships, making it also a great option for anyone looking for a premium phone at a lower price.
Our verdict
Scores:
Design: 10/10 – A design sharp enough for James Bond that\'s also waterproof.
Screen: 9/10 – A large screen for a small device .
Software: 8/10 – Still a bit of bloatware, but overall a crisp take on Android.
Camera: 10/10 – Improving on what was already one of the best smartphone cameras on the market, while throwing in a few fun AR gimmicks.
Value: 9/10 – Packs in the same performance and features of its larger counterparts.
Overall: 9/10 – The only option if you want a premium compact device.
The Good
Excellent camera.
Unrivaled in its size category.
Impressive two-day battery.
Decent performance (even underwater).
The Bad
Fingerprint sensor doesn\'t always work first time.