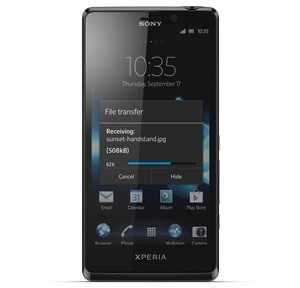 Sony's Xperia T, announced in August at the IFA 2012 trade show gets a new software update with a firmware build 7.0.A.3.195.
The update brings new features such as Wi-Fi Miracast screen mirroring, new Small Apps and the media application icons according to Xperia Blog. According to report, the current root methods will not work with the new firmware.
Take a look at the new features as noted by Xperia Blog:
The media icons have had a facelift; however the other icons have not undergone any changes.
Wi-Fi Miracast screen mirroring is enabled
You will now be able to find a new "Media server settings" under the "Wireless and networks" menu settings. This feature allows you to share any media content to other devices.
In addition, the walkman app comes with a "Throw" option which lets you to share the music to other device via Wi-Fi Miracast.
The same option is also seen in the Album app, meaning you can view the pictures on your TV. In addition to the Throw option, SensMe option will allow to change the music and theme.
Three new Small apps available
Small Apps are widget-like apps which can cover the home screen and any other app. Once installed, you can see three new icons on the Small Apps ribbon. The three new Small Apps contain currency converter, unit converter and Mirror. The currency converter provides an easy way to convert currency, while the unit converter is used for several unit groups which include area, energy, length, mass, power, pressure, temperature, time, velocity and volume. The mirror app can be toggled in two sizes- half-screen and full-screen which lets you to capture a picture of yourself by using a camera button placed in the bottom left.
App icons in notification menu
The app icon thumbnails are now made available in the notification screen.