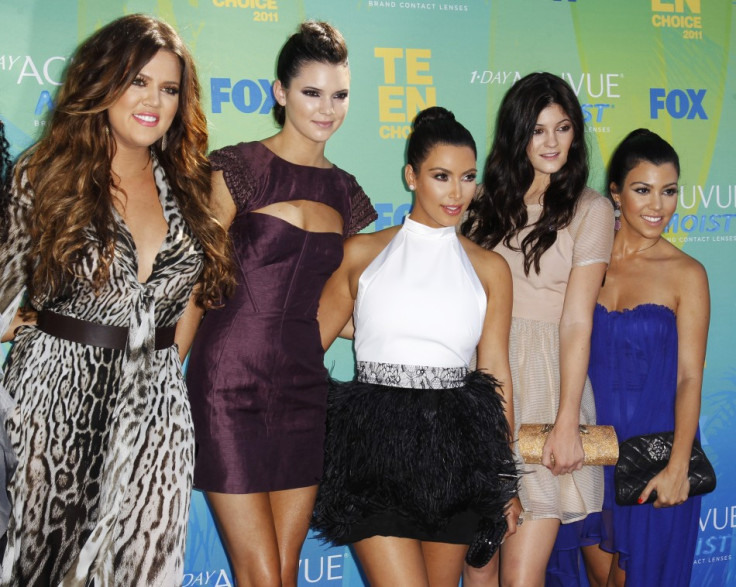 Having grown tired of the incessant coverage of the Kardashians, celebrity blogger Perez Hilton launched a campaign to take down TV's biggest family. Announcing the #NoKardashiansForAWeek campaign on Twitter, he called for all media outlets to join his boycott of E! Entertainment's biggest cash cow and stop publishing stories between from 17-21 August.
"To my fellow media: Can we take a Kardashian break? At least for a week?" he wrote on Twitter. "No Kardashian coverage this coming Mon-Fri? Will anyone join me???"
But one small problem with his passive-aggressive initiative is that the Kardashians currently rule the world – well, at least pop culture. Whether it's social media, TV, magazines, you are never too far from a Kardashian, a Jenner or their equally publicity-hungry partners like Kim's rapper husband Kanye West.
A resilient brand
Most of us have come across the members of the famous family. Kim, Kourtney, Khloe , half-sisters Kendall and Kylie Jenner and matriarch and 'momager' Kris Jenner. Roll your eyes in frustration all you want, but the truth is that there is a lot we can learn from these reality stars about creating and maintaining a successful brand.
They found a gap in the market and filled it with as much strangely addictive drama and entertainment as they could muster. Simply put, the family are tabloid fodder and like any good soap opera, they continue to mix a toxic concoction of sex, comedy, tragedy and contradictory family values before bottling it up and sell it to the masses.
"The Kardashians epitomise an era in the evolution of reality TV where, like the hero of the film The Truman Show, the reality star is if not born in the reality culture, totally immersed in it, blurring the lines between what is real and what is staged for the cameras," psychologist and body language expert Judi James tells IBTimes UK.
"There will clearly be external pressure on the entire clan to keep emerging with media-grabbing plots, and the internal competition between family members to grab the headlines must also keep them planning in terms of their lives, loves and other themes."
Branding expert and Adweek executive editor, Tony Case adds that much can be said for their ability to turn adversities into assets and their fierce ambition.
"Kim sells millions of magazines, does brand endorsements, has massive social media influence, and has the hottest mobile game around. She and her husband Kanye West are not only stars; they're also among the savviest business people in Hollywood," he explained. "Kendall is one of the hottest models around, and of course Caitlyn Jenner is not only the media superstar of the year but also has emerged as the voice of an entire community."
Guilty pleasures and soap opera drama
While they may be megastars, the real question is would anybody care what Kim and her siblings were doing if there was no way of documenting it? According to James, the short answer is no.
"The Kardashians seem to sustain a 'soft spot' celebrity status, meaning fans have a form of affection for them even when they are seen as more of a guilty pleasure. To achieve this, they have tapped into three key areas of familiar territory."
The industry expert insists that there is a good chance fans would soon be on the hunt for fresh blood should the family fall into obscurity. So to stay relevant they must remain transparent.
"I would be fascinated to see how their individual analysis of events in their lives might change if they no longer felt they were sharing them with the rest of the world," James said.
With a hit reality show in its 10th season, and millions of fans, it easy to forget that at one point in the not so distant past the Kardashians' only claim to fame was being the offspring of the lawyer that allegedly helped OJ Simpson get away with murder. Now the Kardashian/Jenner brand is worth an estimated $300m (£192m).
Just when we think that they have finally relinquished their column inches, they hit us with a new headline-grabbing story. Last year, it was Kim's nude Paper spread. This year it was Kylie Jenner's romance with rapper Tyga and Caitlyn Jenner's transition. They freely share the most private details of our day-to-day lives, but only through carefully chosen hashtags, selfies and tweet.
They have mastered the art of longevity in a fickle industry and manipulating the media (why else do you think we continue writing about them). Social media has become so penetrated with news that the two are practically one of the same. No wonder their posts are planned with military precision.
"Perez Hilton's boycott will have zero impact. The media covers the Kardashians because the Kardashians sell—just ask Anna Wintour. Until we stop watching the TV shows and buying the magazines, they aren't going to stop," Case said.
Family is key
The Kardashians and Jenners have built an entire business empire around their name and like any other major firm, everyone has a role in the carefully oiled machine. We all know Kim's body is her moneymaker, but as a family unit their real strength comes in knowing exactly who, and what, they are and not pretending to be anything other than themselves.
For a while in 2012, it appeared that the family may be on their way out in the wake of Kim's divorce from husband Kris Humphries after 72 days of marriage after multimillion dollar, televised wedding. Ratings for their hit show Keeping Up With the Kardashians dipped and their marketability waned, but just like any hero they came back fighting and Kim's romance with one of the biggest rappers on the globe provided a much-needed resurgence.
"We are comfortable with their setup because it has a family dynamic and because that form of family unit is rife in literary culture," James says. "With the strong pushy matriarch with daughters to marry off this is classic Jane Austen territory meaning although the reality culture might be modern the themes portrayed have been popular for over a century.
However, Case insists their reign cannot last forever and there will come a time when we will tire of the Kardashians. "Even the biggest stars burn out eventually — just look at Madonna. But right now, it's the Kardashians' moment," he said.
But until then, we should just sit back and enjoy the show.