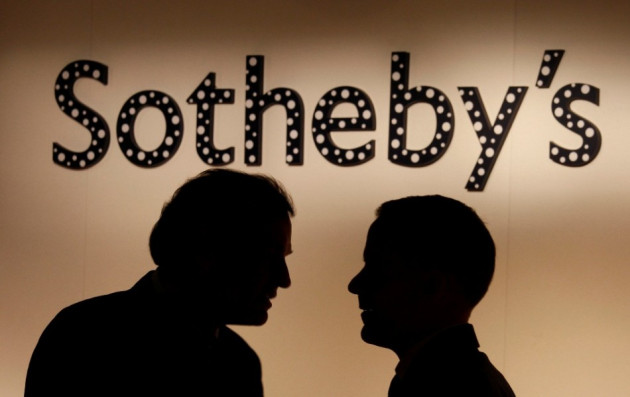 Billionaire activist-investor Daniel Loeb, whose hedge fund is now Sotheby's largest shareholder, has asked the auction house's Chairman and Chief Executive William Ruprecht to step down and accused company bosses of living a "life of luxury" at investors' expense.
Loeb, who manages the hedge fund Third Point, cited Sotheby's losing significant ground to rival Christie's, Ruprecht's unwarranted compensation package and his lack of leadership as reasons behind his demand.
"We acknowledge that Sotheby's is a luxury brand, but there appears to be some confusion - this does not entitle senior management to live a life of luxury," said an open letter from Loeb to the auction house executives, in which he attacked them for spending hundreds of thousands of pounds on dining out.
In response, Sotheby's dismissed Loeb's observations as "baseless" and highlighted its surging stock price as evidence that its business strategy is working.
Loeb wants Ruprecht to resign immediately. He also demanded that the roles of Chairman and CEO be split, and has asked to join the board of the auction house, Forbes reported.
He opined that Christie's had fared better than Sotheby's in several areas - the London-based firm dominated the modern, post-war, and contemporary art auctions business; had better entrenched itself in fast-growing markets such as China and India; and had successfully implemented a digital strategy targeting private sales as against Sotheby's core strategy of focusing on top clients and high value lots.
"Our research suggests Sotheby's crisis of leadership has created dysfunctional divisions and a fractured culture. There is a demoralizing recognition among employees that Sotheby's is not at the cutting edge," Loeb wrote in his 2 October letter, which also revealed Third Point had raised its stake to 9.3% from 5.7% to become the biggest shareholder.
Sotheby's replied: "Rather than debating incendiary and baseless comments, we are focused on serving our clients' needs during this critical autumn sales season," and added that its share price had exceeded the S&P midcap index over the one, five, and ten year periods."
An unnamed art market insider told Forbes that Loeb would "try to tear the company apart."
The insider added that when comparing Sotheby's with privately-held Christie's, it was difficult to ascertain as to which auction house had a better business model given that the latter does not disclose financial details.
Sotheby's stock price has shot up by about 58% so far this year on the New York Stock Exchange.
Marcato Capital Management owns 6.7% of the auction house, Trian Fund Management owns about 3% and Morgan Stanley holds a 2.4% stake in the firm.