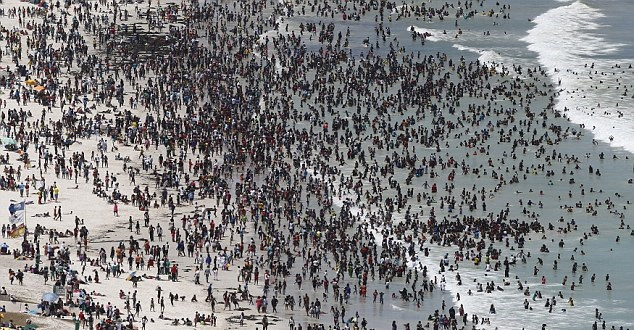 More than 70 children who went missing on the beaches of Cape Town, South Africa, on New Year's day, still remain unclaimed.
On Thursday (31 December) over 500 of children were separated from their parents as thousands of revellers gathered for the new years celebrations.
Over 30,000 people converged on Monwabisi, Strandfontein, Muizenberg, and Strand beaches, where 1,000 police officers were on duty.
Most of the children who went missing were aged seven or younger. Some were reportedly as young as three.
Officials confirmed they were able to reunite more than 400 children with their families, using loudspeakers to announce the whereabouts of the children.
JP Smith, the head of public safety for Cape Town, said measures were taken to safeguard the children.
"One of the elements that we used this year was the identikits program, where young children coming to the beach with their families are tagged with a wrist band so that we can reunite them with their families.
"Unfortunately, approximately 70 children could not be reconnected with their families and they had to be handed over to the South African police," he added
An official added that efforts ar ebeing made to reunite the children with their families. "Police will have to try to figure out where those parents are. In Strand alone we handed over 35 children to the police. This is a result of parents who are not paying attention to the whereabouts of their children,.
The unclaimed children were taken to the city's police stations, where they had to spend the night, as authorities attempt to obtain details about the families of the children.
News of the missing children has prompted members of the public to express their anger on social media, describing the situation as 'unbelievable' and 'shameful'.
One Twitter user said: "I am battling to understand, how do you lose a child on a beach? And you still go home? It is sad. If I travelled with a child, I will not leave without him/her even if it means no sleep searching."
Another commented: "70 children? What kind of parenting is this?"